Deep Fried Meatballs
We're excited to share a recipe that's close to our hearts and stomachs: deep-fried meatballs. These meatballs are not only tasty and juicy, but they're also a big hit at any gathering, our guests always ask for seconds!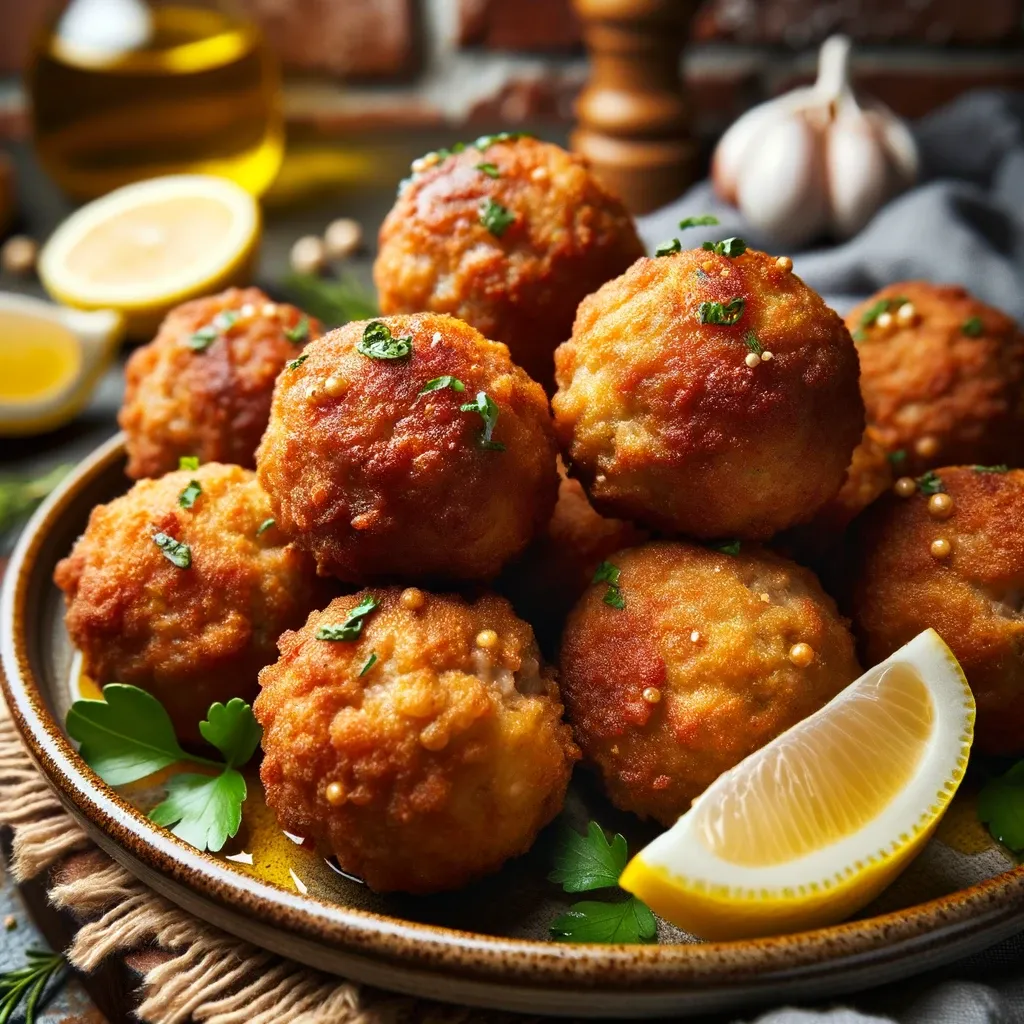 Choosing the Right Meat
In our recipe, we often use a blend of pork and beef. We find that this combination really brings out a nice balance in the meatballs, making them both juicy and full of flavor. But we understand everyone has their own preferences. If you like, you can use just pork or just beef instead. Both options work well and bring their own unique taste to the meatballs.
We usually use meat with about 20% fat because it adds a lot of flavor and keeps the meatballs juicy. However, if you're looking for a healthier option, you can definitely go for leaner cuts of meat. Just remember that they might not be as juicy, but they'll still taste great.
In the end, the type of meat you choose can really change the character of the meatballs. Whether you stick with the classic pork and beef mix or go for something different, it's all about what you enjoy.
Our Special Meat Mix
When we make meatballs, we like to add a personal touch with our own blend of seasonings. It's a straightforward mix, but it really makes a difference in the flavor. Here's the breakdown of our meatmix;
Garlic powder, which adds a nice, subtle flavor without being too overpowering. It's a great way to get that garlic taste throughout the meatballs.

Salt and pepper: salt is key for bringing out the flavors of the other ingredients, and the pepper adds just a little bit of heat and spice. We don't go overboard with it; just enough to give a hint of warmth.

Parsley: (and not just for color!) Parsley gives a fresh, herby taste that really complements the other flavors. Plus, it's always nice to have a bit of green in your meatballs!

Parmesan cheese: It gives the meatballs a slight cheesy flavor and a bit of richness. It's not too strong, but it adds a nice depth to the overall taste.

Egg: The egg helps to bind everything together so the meatballs don't fall apart when you cook them. It's a simple trick, but it's really effective.
Our seasoning adds flavor without overwhelming the taste of the meat, and it's easy to put together with ingredients you probably already have in your kitchen.
Frying the Meatballs
We fry our meatballs in sunflower oil because it doesn't add any extra flavor to the meatballs and has a high smoke point. Canola oil, vegetable oil, or peanut oil are good alternatives. If you're interested in what oils to use for frying, here's a great blog post that breaks it down really well.
For that extra crunch and a beautiful golden color, we coat the meatballs in egg wash and breadcrumbs before frying them at 300°F for about 5 minutes. We check the temperature of the oil with a cooking thermometer to make this bit slightly easier. The important thing is that the meatballs should sizzle as soon as they touch the hot oil.
We fry our meatballs in a cast-iron skillet since this is generally our weapon of choice in the kitchen, but a deep fryer or a deep pot are great alternatives.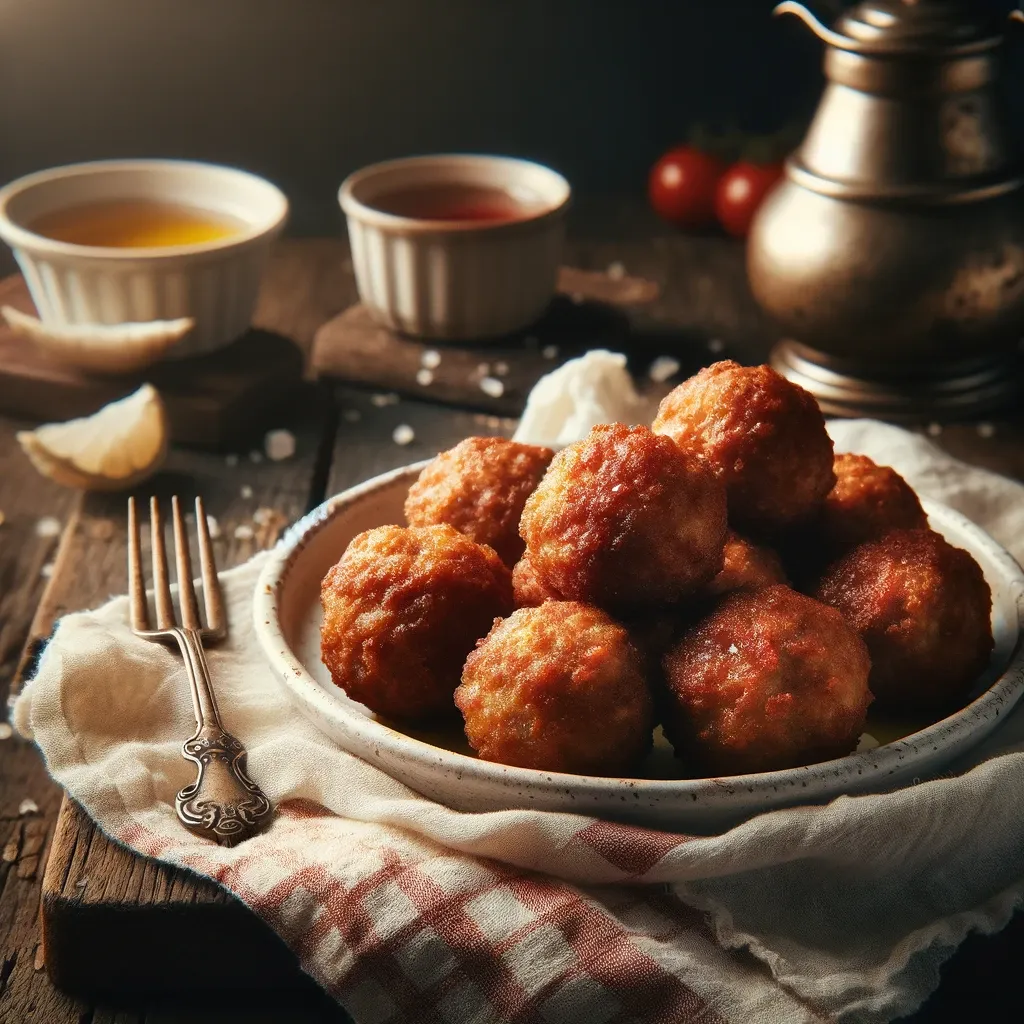 Meatball versatility
Meatballs are incredibly versatile and can be made in a number of ways, depending on the cuisine, and we have plenty of ideas for you to try;
Italian Meatballs: Often made with a mixture of beef and pork, seasoned with garlic, herbs like basil and parsley, and Parmesan cheese, and typically served with marinara sauce and pasta.

Swedish Meatballs: Smaller in size, these are known for their rich, creamy gravy and are often made with a blend of beef and pork, seasoned with nutmeg and allspice. They're commonly served with lingonberry sauce and mashed potatoes.

Greek Meatballs (Keftedes): Made with ground lamb or beef, these meatballs are flavored with mint, oregano, and garlic, and are often served with tzatziki sauce.

Turkish Meatballs (Köfte): Typically made with ground lamb or beef, seasoned with onion, paprika, cumin, and parsley. They are often grilled and served with flatbread and yogurt.

Vegetarian Meatballs: Made with ingredients like lentils, chickpeas, tofu, or mushrooms for a meat-free alternative, often seasoned with various herbs and spices to mimic the flavors of traditional meatballs.

American Meatballs: Often larger in size, made with ground beef or a mix of meats, and seasoned with garlic, onion, and Worcestershire sauce. They can be served in a variety of ways, including with barbecue or sweet and sour sauce.

Moroccan Meatballs (Kefta Mkaouara): Made with ground lamb or beef, mixed with spices like cumin, paprika, and cinnamon, and often cooked in a spicy tomato sauce with eggs poached on top.
Sauces and dips
Thinking about what to serve with these beautiful, golden meatballs? Deep-fried meatballs pair so well with several sauces and dips. Here are some ideas of what to serve:
Marinara Sauce: A classic Italian tomato-based sauce with garlic, herbs, and onions, perfect for a traditional pairing.

BBQ Sauce: For a smoky, sweet, and tangy flavor, barbecue sauce can be a great choice, especially with beef meatballs.

Tzatziki Sauce: This Greek yogurt-based sauce with cucumber, garlic, and dill offers a cool and refreshing contrast to the hot meatballs.

Sweet and Sour Sauce: A mix of sweetness and tanginess, this sauce can add an Asian flair to your meatballs.

Creamy Mushroom Sauce: A rich and savory option, great for adding a bit of elegance to your meatball dish.

Swedish Gravy: Typically served with Swedish meatballs, this creamy, beef broth-based gravy often includes a touch of sour cream for richness.

Spicy Arrabbiata Sauce: For those who like a bit of heat, this spicy Italian tomato sauce can be a great addition.

Honey Mustard Dip: A combination of sweet honey and tangy mustard, this sauce can provide a delightful balance of flavors.

Pesto Sauce: Made with basil, garlic, pine nuts, Parmesan cheese, and olive oil, pesto can add a fresh and herby flavor. Try out our Pesto Aioli recipe as an adventurous dipping sauce for your meatballs.

Thai Sweet Chili Sauce: Offers a sweet yet spicy kick, perfect for a fusion twist on traditional meatballs.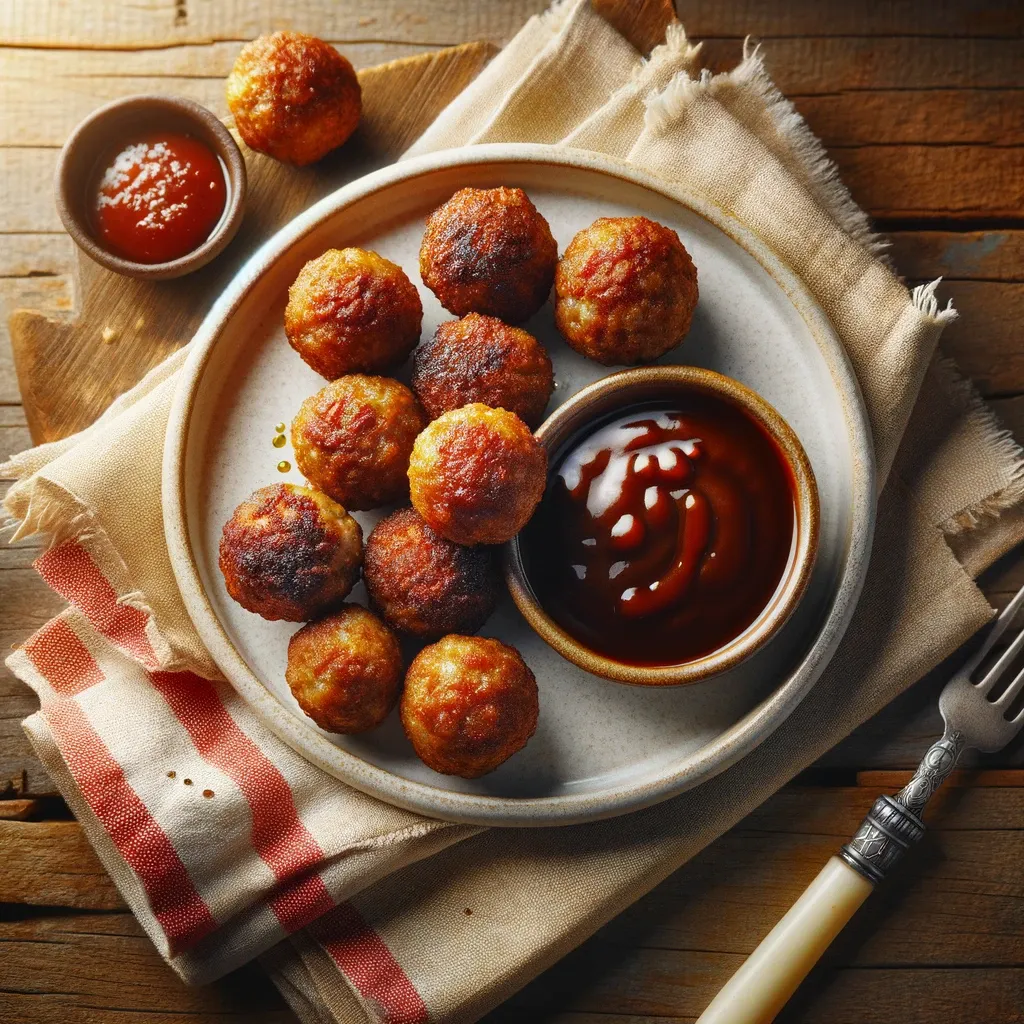 Can I prepare the meatballs in advance?
Yes, you can prepare the meat mix and roll the meatballs the night before to save yourself time with prep work before frying the meatballs. Store your meatballs in an airtight container in the fridge. Roll the meatballs in egg wash and breadcrumbs right before frying.
Can I freeze the meatballs?
Yes, you can freeze the raw meatballs for roughly 6 months in an airtight container. Freeze the meatballs before rolling them in egg wash and breadcrumbs. However, the meatballs will not be as tasty or flavorful as the fresh meat so we recommend using fresh meatballs for this recipe.
What can I serve with fried meatballs?
Serve your meatballs as an appetizer with sauces of your liking, such as:
Marinara sauce
BBQ sauce
Creamy gravy
Alternatively, the meatballs are perfect as a main meal with a side of mash potatoes or salad, and, of course, meatballs are the star of spaghetti and meatballs or a meatball sub.
How can I make these meatballs healthier?
For a healthier version, you can bake the breaded meatballs instead of frying them.
How do you store and reheat leftover deep-fried meatballs?
Store them in an airtight container in the refrigerator and reheat them in the oven or on the stove for the best texture.
How do you cook the meatballs evenly?
Make sure to shape the meatballs into uniform sizes for even cooking. Another important thing is to maintain a consistent oil temperature and don't overcrowd the frying pan. We generally use a cooking thermometer to get the temperature of the oil just right and make the process even easier for ourselves.
Deep Fried Meatballs
These deep-fried meatballs are crispy, juicy, and delicious; they are the perfect appetizer served with sauce or as a main dish with mash, spaghetti, or salad.
Cuisine
American
Serves
6
Prep
15 mins
Cook
15 mins
Total
30 mins
Calories
505 kcal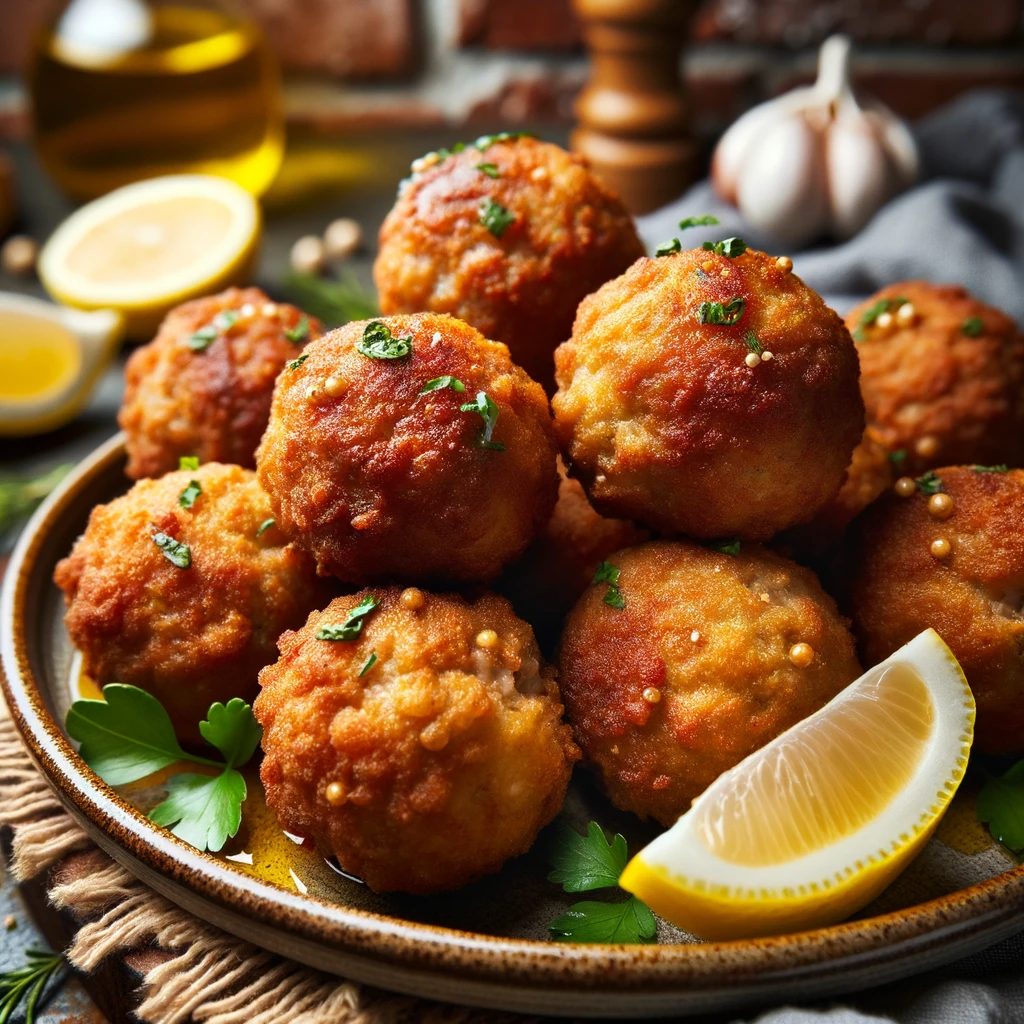 Ingredients
1 lb minced beef (20% fat)

1 lb minced pork (20% fat)

1 teaspoon garlic powder

½ teaspoon salt

¼ teaspoon ground pepper

1 tablespoon roughly chopped parsley

½ cup grated parmesan

1 egg (meat mix)

2 beaten eggs (egg wash)

1 lb breadcrumbs

Frying oil
Instructions
Add 1lb of minced beef, 1lb of minced pork, 1 teaspoon garlic powder, ½ teaspoon salt, ¼ teaspoon ground pepper, 1 tablespoon parsley, ½ cup of parmesan to a bowl and mix everything until well incorporated.

Make a little well in the meat mixture and add 1 egg to the well. Mix the egg into the meat mixture.

Roll out the meat mixture into 1.7-ounce meatballs. There should be roughly 20 meatballs once they are all rolled out. Roll the meatballs in the egg wash and then roll the meatballs in the breadcrumbs until they are completely covered.

In a deep fryer or a deep pot or skillet, add the frying oil (use enough oil to totally submerge the meatballs in the oil). Once the oil reaches a temperature of 300°F, place the meatballs in the oil using a slotted spoon. The meatballs should sizzle as soon as they touch the hot oil.

Fry the meatballs for approximately 5 minutes. The meatballs should have an internal temperature of 160°F when cooked.

Once the meatballs are fried, place the meatballs on a kitchen towel to absorb any excess oil.
Notes
If you are frying in a pot or skillet we recommend using a cooking thermometer for extra precision in your cooking.

Make sure not to overcrowd the pan or the fryer, we recommend cooking the meatballs in batches if necessary.
Nutrition
Calories 505 kcal |
Carbohydrate Content 13 g |
Cholesterol Content 147.1 mg |
Fat Content 34.6 g |
Fiber Content 0.8 g |
Protein Content 34 g |
Serving Size 1 portion |
Sodium Content 547.9 mg |
Sugar Content 1.1 g |