Lamb Tacos
Lamb Tacos offer a delightfully fresh and flavorful culinary experience, making them an ideal choice for a quick and satisfying weeknight dinner. They're effortless to whip up, ensuring a gourmet meal is always within reach.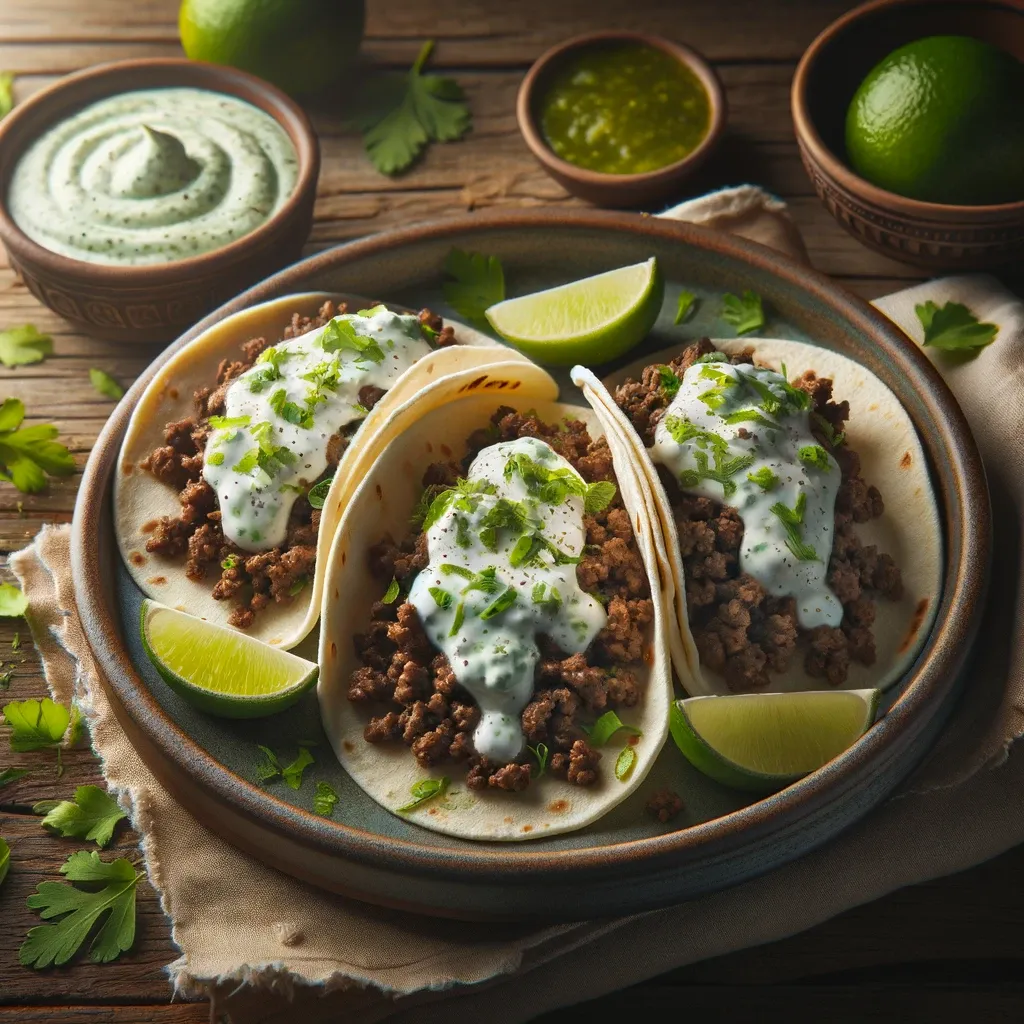 Flavorful Lamb
In this recipe, we utilize ground lamb, infusing it with a variety of spices to enhance its distinctive taste. The freshness in each bite comes from the addition of lime juice, mint, and cilantro, perfectly complementing the lamb. If you're looking to make lamb seasoning to store as a pantry staple, check out our lamb seasoning recipe.
Homemade Tzatziki Sauce
Originating from South-East European and Middle Eastern cuisines, tzatziki is a creamy and refreshing sauce, ideal as a dip or taco topping. Our special tzatziki recipe combines savory yogurt with cucumbers, mint, and sometimes garlic, lemon juice, and various herbs, creating a perfect accompaniment for the lamb tacos.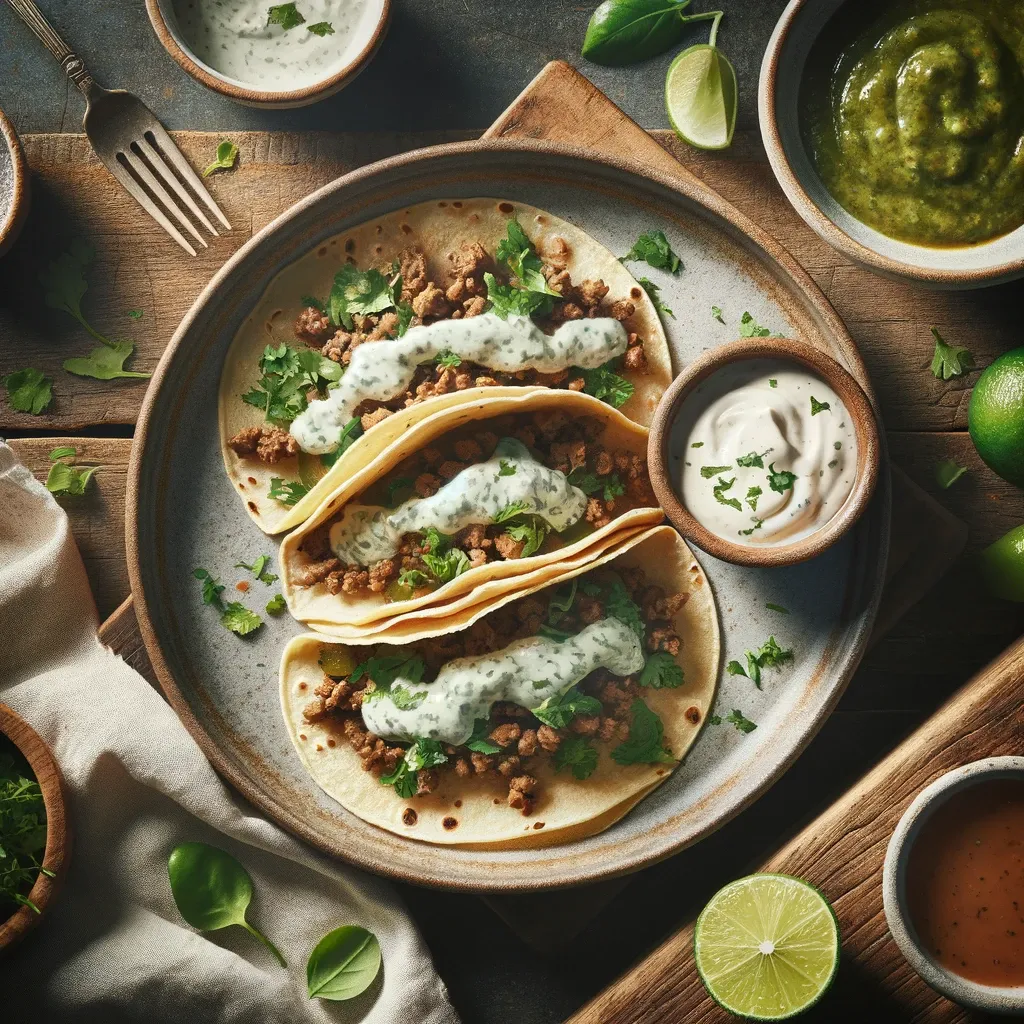 What are good side dishes for lamb tacos?
A light and simple salad complements the refreshing nature of lamb tacos beautifully. Don't forget to serve extra tzatziki sauce for drizzling over your salad too!
What's the best way to store leftover lamb tacos?
Keep the cooked lamb in a sealed container in the refrigerator for up to three days. Store the tzatziki sauce in a similar manner. For the freshest taste, assemble the tacos right before you're ready to enjoy them again!
Lamb Tacos
Lamb tacos are a wonderfully vibrant and tasty option that's surprisingly simple to prepare. They're an excellent choice for a weekday meal, offering a quick and easy recipe that promises a delightful and delicious dish every time.
Cuisine
Greek
Serves
4
Prep
0 mins
Cook
30 mins
Total
30 mins
Calories
539 kcal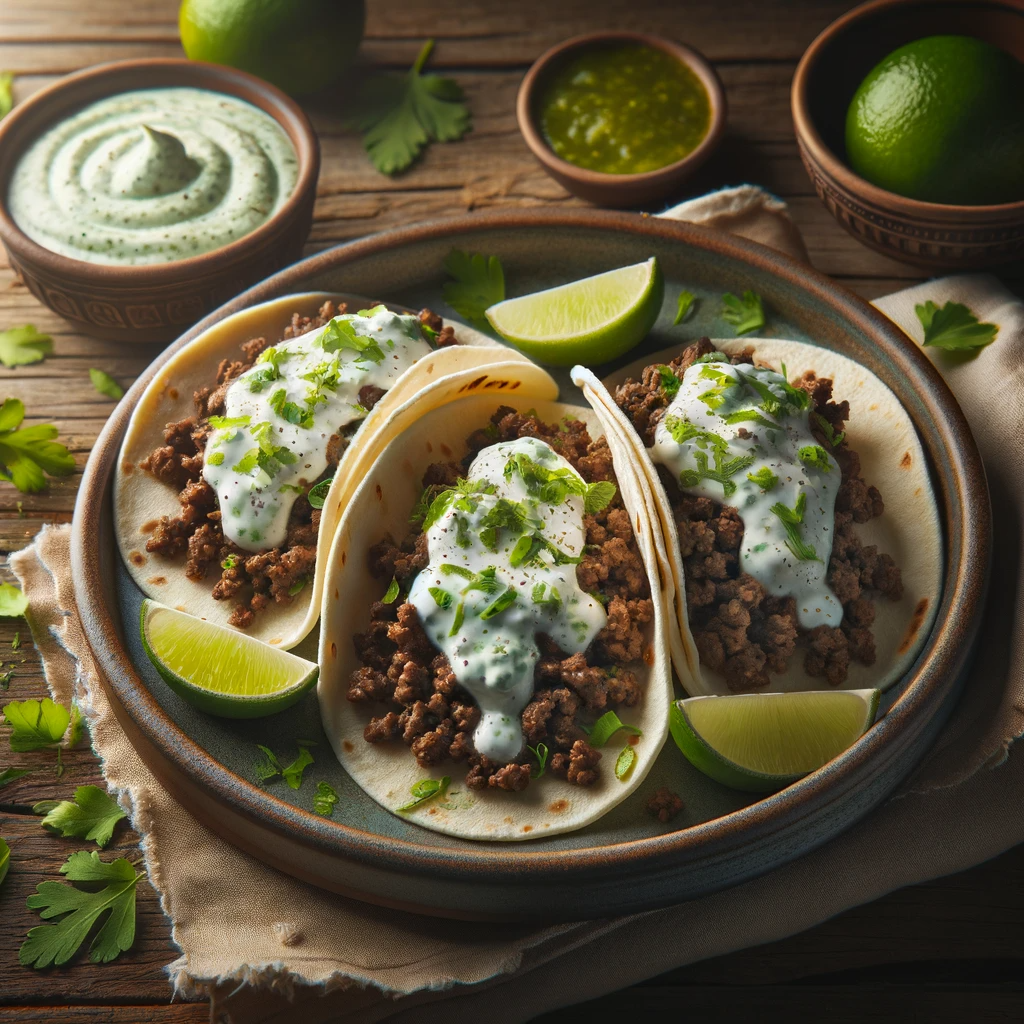 Ingredients
Handful of cilantro

Juice of a whole lime

Half a handful of roughly chopped mint leaves

1 teaspoon dried oregano

1 teaspoon cumin

6 cloves garlic

½ teaspoon kosher salt

1 lb ground lamb

5.5 oz. Greek yogurt

⅓ grated cucumber

7-8 chopped mint leaves

Handful of dill

4 soft taco shells

1 chopped tomato

⅓ chopped cucumber

1 tablespoon cooking oil
Instructions
Mix the ground lamb with the lamb seasoning in the food processor. Process the mixture for roughly 30 seconds. Alternatively, mix the lamb and the seasoning by hand.

Leave the lamb mixture in an airtight container in the fridge for at least half an hour (this can also be left overnight).

Cook the ground lamb meat in a pan over medium-high heat until it turns golden brown. Add a tablespoon of cooking oil to the pan if required.

To make the tzatziki sauce, combine all the ingredients for the sauce and mix thoroughly by hand.

Add the cooked meat to the tortillas and pour the tzatziki sauce over the lamb. Garnish with coriander and add fresh vegetables of your choice, such as chopped tomatoes and sliced cucumber
Nutrition
Calories 539 kcal |
Carbohydrate Content 35.9 g |
Cholesterol Content 88 mg |
Fat Content 31.9 g |
Fiber Content 1.2 g |
Protein Content 27.9 g |
Serving Size 1 portion |
Sodium Content 701 mg |
Sugar Content 3.8 g |