Luxurious Truffle Mash
Truffle mash is a decadent twist on the classic mashed potatoes, infusing the earthy and luxurious flavors of truffles into a creamy, buttery base. This dish is a gourmet addition to any meal, elevating the humble potato to a new level of elegance. Originating from European cuisine, truffle mash has become a beloved side dish for its rich flavor and velvety texture.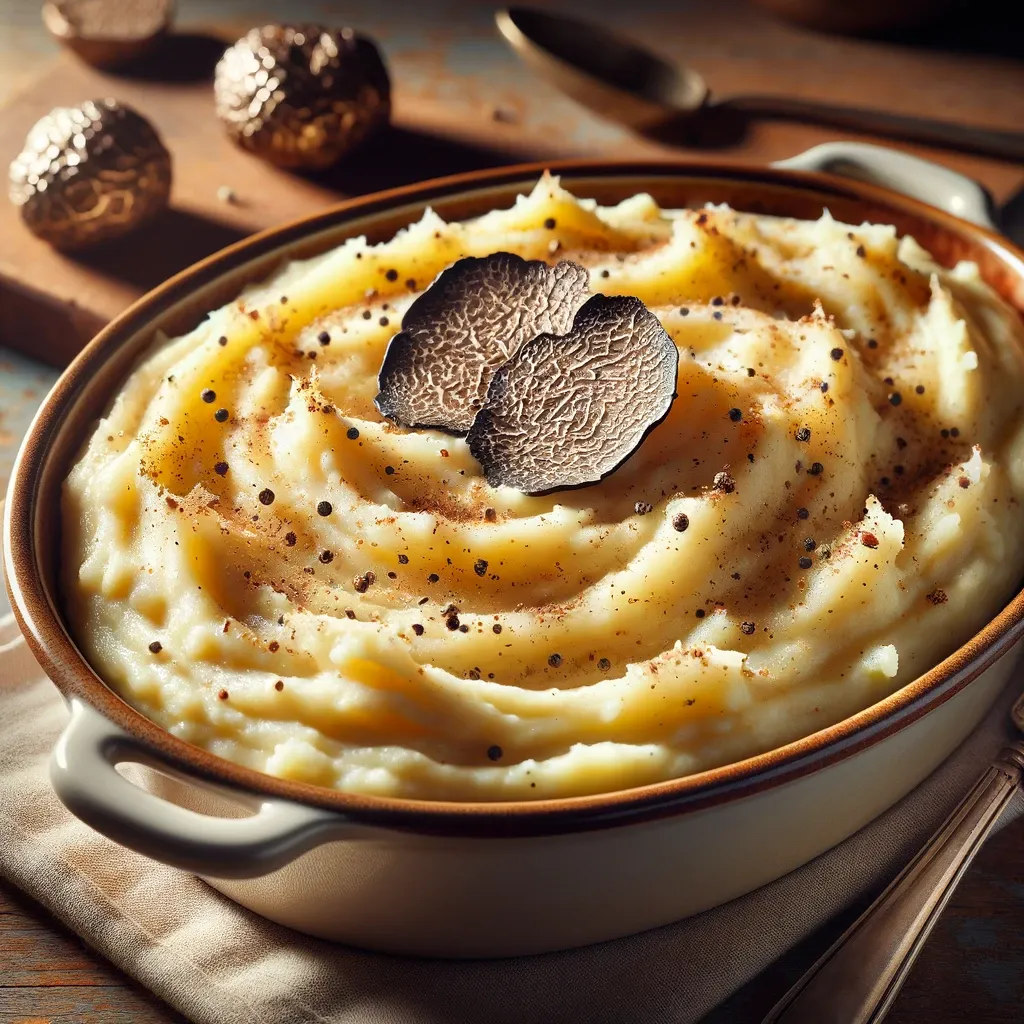 Potatoes
Creating an outstanding truffle mash is all about selecting the finest ingredients. The foundation of this luxurious dish is high-quality potatoes, which are crucial for achieving the perfect blend of fluffiness and creaminess. Varieties like Russets or Yukon Golds are preferred for their texture and ability to absorb flavors. Rich butter is then added, lending a smooth, velvety richness that is unmistakable. The cream further enhances this silky texture, making each spoonful a delightful experience.
Truffles
The pièce de résistance of truffle mash, however, is the truffle element itself. Truffle oil, known for its intense and earthy aroma, infuses the dish with a unique gourmet flavor. Alternatively, finely grated fresh truffles can be used, offering a more robust and nuanced taste profile that elevates the dish to new culinary heights. This magical combination of potatoes, butter, cream, and truffles creates a symphony of flavors and textures, culminating in a side dish that's both indulgent and comforting.
Variations
For those following a vegan diet, this dish can still be thoroughly enjoyed with a few simple swaps. Dairy butter and cream can be replaced with high-quality vegan alternatives that mimic their richness without compromising on texture. Synthetic truffle flavoring, which is often vegan, can be used in place of truffle oil to ensure that the signature truffle taste is still prominently featured in this plant-based version.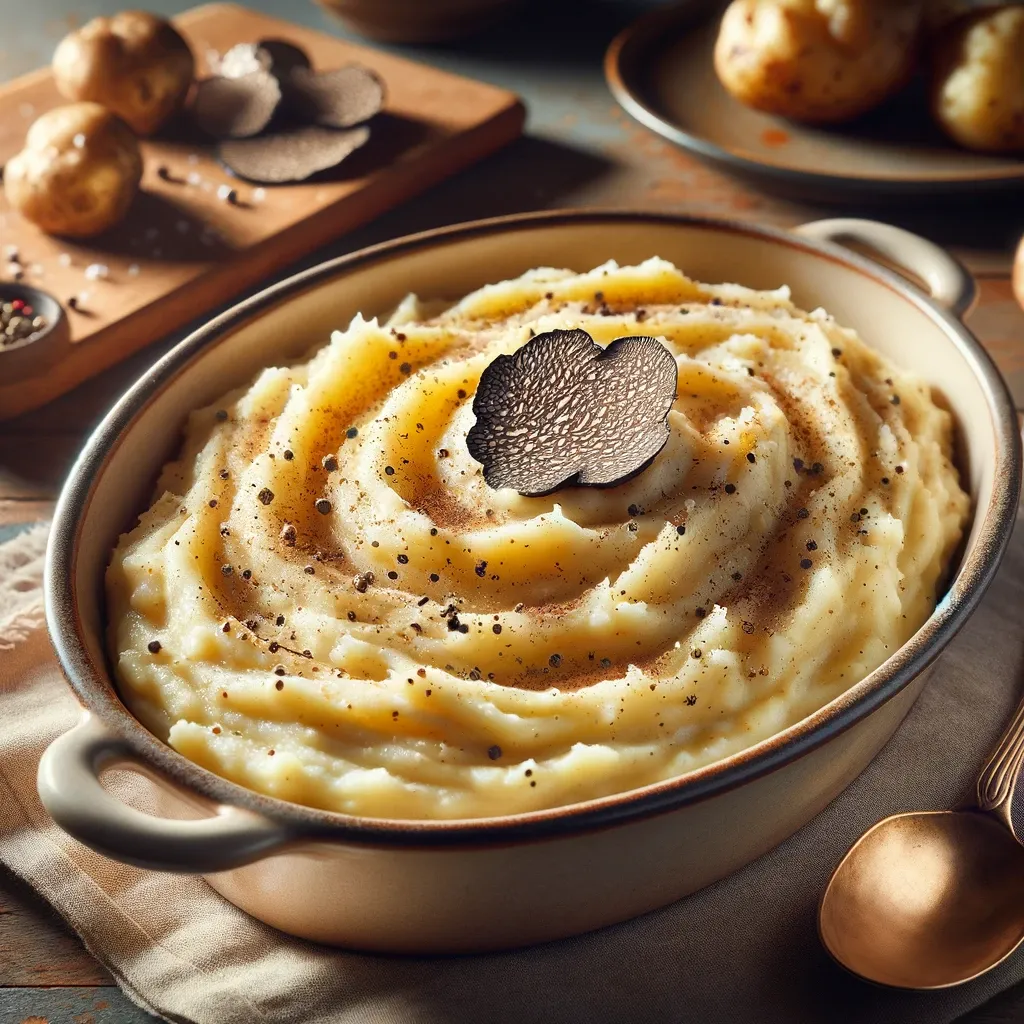 What can I serve with truffle mash?
Truffle mash pairs exquisitely with a variety of main courses. It's a perfect accompaniment to roasted meats, like a succulent beef tenderloin or a herb-crusted rack of lamb, where its creamy texture and rich flavor complement the savoriness of the meat.
It also works well alongside roasted or grilled vegetables, offering a decadent contrast to their natural simplicity. For those looking to create a truly gourmet meal, serving truffle mash under a perfectly cooked filet mignon or alongside a seared duck breast elevates the dining experience to that of a fine dining establishment. Its versatility makes it an ideal side dish for special occasions, adding a touch of luxury to any meal.
What type of potatoes are best for truffle mash?
Starchy potatoes like Russets or Yukon Golds are ideal for a creamy and fluffy truffle mash.
Can I use fresh truffles instead of truffle oil?
Absolutely! Freshly grated truffles add a more intense and authentic flavor.
How can I make a dairy-free version of truffle mash?
Use plant-based butter and cream substitutes to create a dairy-free version.
Can truffle mash be made ahead of time?
Yes, you can prepare it in advance and reheat it, adding a little extra cream or butter to maintain creaminess.
How do I store leftover truffle mash?
Keep it in an airtight container in the fridge for up to 3 days. Reheat it on the stove or in the microwave.
What dishes pair well with truffle mash?
It pairs wonderfully with roasted meats, grilled vegetables, or as a base for a luxurious shepherd's pie.
Luxurious Truffle Mash
Discover how to make a luxurious truffle mash, a creamy and flavorful twist on classic mashed potatoes, perfect for a gourmet side dish.
Cuisine
European
Serves
4
Prep
15 mins
Cook
30 mins
Total
45 mins
Calories
310 kcal
Ingredients
1 kg potatoes (Russets or Yukon Golds)

100 g butter

100 ml heavy cream

2 tablespoon truffle oil

1 teaspoon salt

½ teaspoon black pepper
Instructions
Peel and cut the potatoes into equal-sized chunks.

Boil the potatoes in salted water until tender, about 15-20 minutes.

Drain the potatoes and return them to the pot on low heat to dry out for a minute.

Mash the potatoes using a potato masher or ricer.

Add butter and cream to the mashed potatoes and mix until smooth and creamy.

Stir in truffle oil, salt, and black pepper, adjusting to taste.

Serve warm as a luxurious side dish.
Nutrition
Calories 310 kcal |
Carbohydrate Content 35 g |
Cholesterol Content 45 mg |
Fat Content 17 g |
Fiber Content 3 g |
Protein Content 4 g |
Serving Size 1 portion |
Sodium Content 240 mg |
Sugar Content 2 g |