Butter Bacon
We love experimenting with flavors, and we're thrilled to introduce a new recipe – the butter bacon delight. We often find ourselves craving something hearty and comforting, especially on those lazy weekend mornings, and that's when this recipe comes to the rescue - we spread this butter on everything.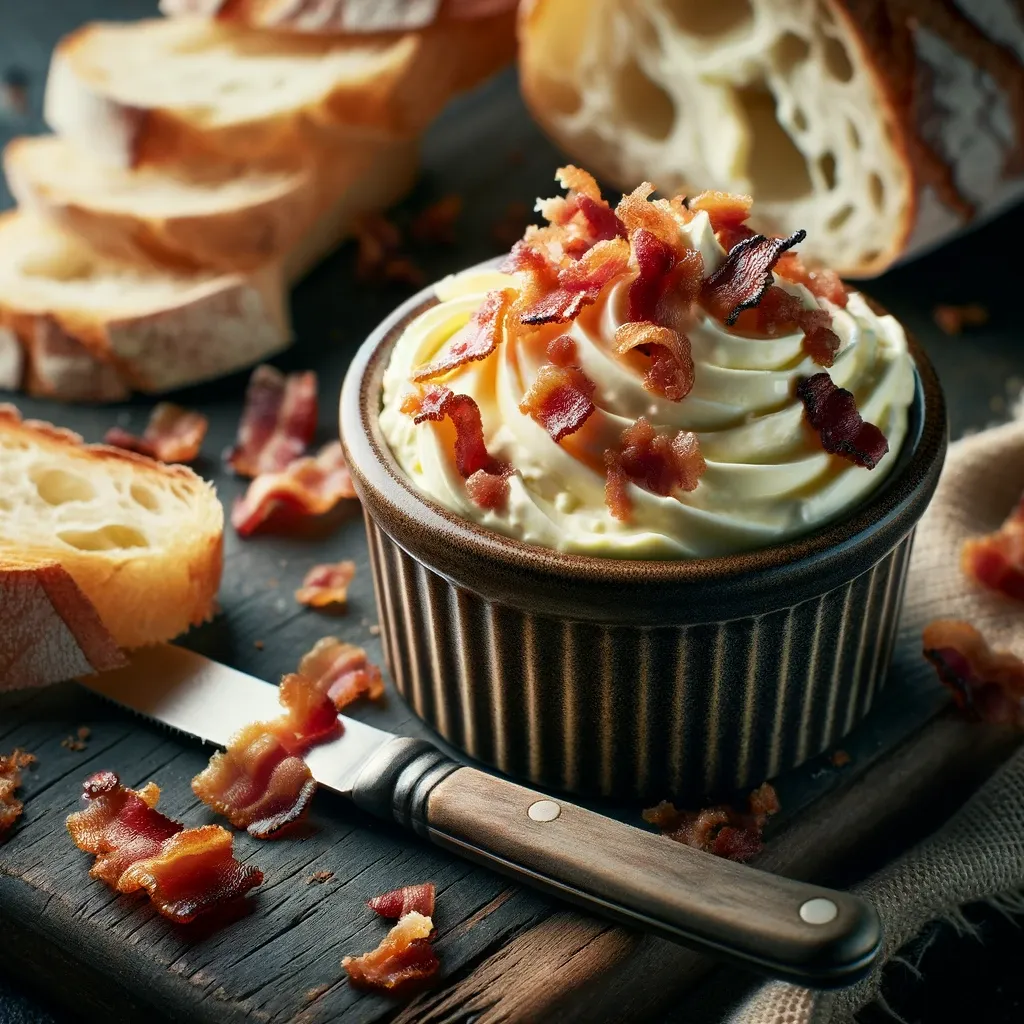 Butter Bacon
Let's look at the ingredients a little bit more closely;
Bacon Strips: We go for thick-cut bacon for its hearty flavor and texture; these slices cook to a perfect crispness, and opting for high-quality bacon makes a difference, offering a rich flavor that complements the other ingredients beautifully. For this recipe, we are cooking our bacon in a cast-iron skillet, but we have also gotten great results in our instant pot air fryer. If you're making your bacon in the instant pot, check out our instant pot bacon recipe.
Unsalted Butter: Using unsalted butter allows you to control the saltiness of the dish, ensuring a balance of flavors that lets the bacon shine.
Black Pepper: A sprinkle of freshly cracked black pepper adds a mild, spicy touch. It pairs well with the bacon, giving a subtle enhancement to the overall flavor without overwhelming it.
Here are some optional add-ons that we think you might like since they're so quick to add in;
Brown Sugar (optional): Slightly sweetens the butter for a beautiful salty sweet contrast.
Fresh herbs (optional): Blend in finely chopped herbs like parsley, chives, or dill for a fresh, aromatic, fresh flavor, perfect for dinner dishes or as a baked potato topping.
Garlic (optional): A light dash of minced garlic or garlic powder introduces a warm, earthy flavor. It's a simple addition that complements the saltiness of the bacon, excellent with bread, vegetables, or as a cooking base.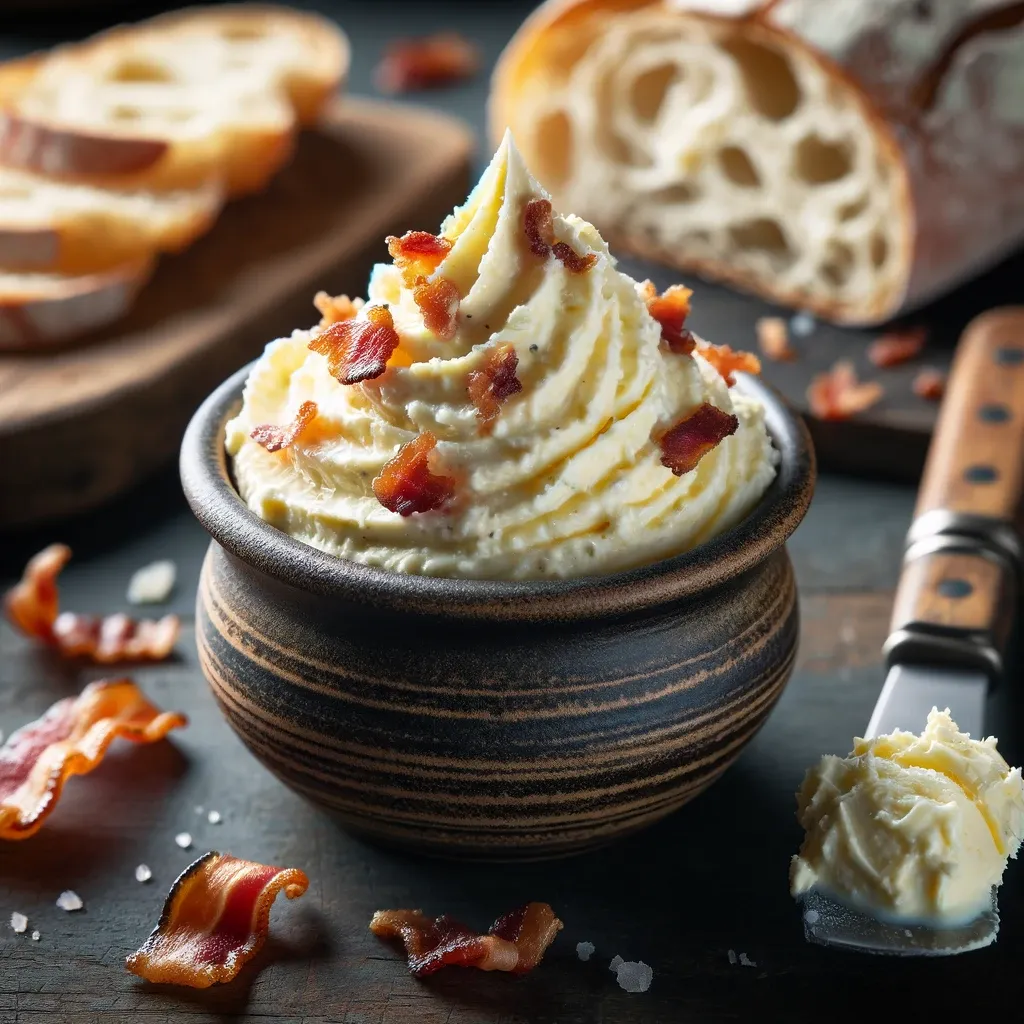 Butter for every occasion
We're big fans of pushing a recipe to its limits, so here are our top variations of butter bacon;
Maple infusion: Infuse butter with maple syrup for a sweet and savory flavor, great for breakfast dishes or as a biscuit spread.
Spicy butter bacon: Mix chopped jalapeños or cayenne pepper into the butter for a spicy kick, ideal for spice lovers.
Cheesey butter: Add grated cheese such as Parmesan, cheddar, or Gouda for a creamy and flavorful twist, complementing the bacon.
Honey mustard: Combine honey and Dijon mustard for a sweet and tangy take, great as a spread or glaze for grilled meats.
Smoky butter bacon: Add smoked paprika for a deeper, smoky flavor, perfect for BBQ dishes or to enhance the smokiness of bacon.
Zesty: Mix in lemon zest for a refreshing citrus note, cutting through the richness, ideal for seafood dishes or summer sandwiches.
Balsamic: Blend in balsamic vinegar for a sophisticated twist, pairing well with the salty bacon and rich butter.
Truffle butter bacon: Add truffle oil or finely chopped truffles for a luxurious, earthy flavor, suitable for special occasions or fine dining.
Just spread it
How many ways could I possibly use butter bacon you ask? Well, we'll tell you;
On toast or bagels: Spread butter bacon on warm toast or bagels for a rich, flavorful breakfast or snack.
Burger topping: Add a little bit of butter bacon on top of your grilled burger buns for an extra layer of savory goodness.
With baked potatoes: Top baked potatoes with butter bacon, creating a truly indulgent side dish.
Eggs & bacon: Incorporate butter bacon into omelets or scrambled eggs for an absolutely delicious breakfast.
Grilled cheeses: Include butter bacon in your grilled cheese for a gourmet upgrade.
Soups and stews: Stir in some butter bacon into soups or stews for added depth and richness.
Veggie delux: Sauté vegetables with butter bacon to enhance their flavor.
Can I make butter bacon in the oven?
Absolutely! Baking bacon in the oven is a hands-off method that allows for even cooking. Simply lay the bacon on a rack over a baking sheet, lightly brush with melted butter, and bake until crisp to your liking.
What type of butter works best for butter bacon?
Unsalted butter is preferred as it allows you to control the saltiness of the dish, especially since bacon already contains salt. However, for an extra touch of flavor, you could use a compound butter mixed with herbs or spices.
Is butter bacon suitable for a ketogenic diet?
Butter bacon is indeed keto-friendly, as it is high in fats and low in carbs, making it a delicious option for those following a ketogenic lifestyle.
Butter Bacon
Discover the decadent combination of butter and bacon in this unique dish that will become a new favorite at your breakfast table or as an indulgent spread.
Cuisine
American
Serves
4
Prep
10 mins
Cook
20 mins
Total
30 mins
Calories
200 kcal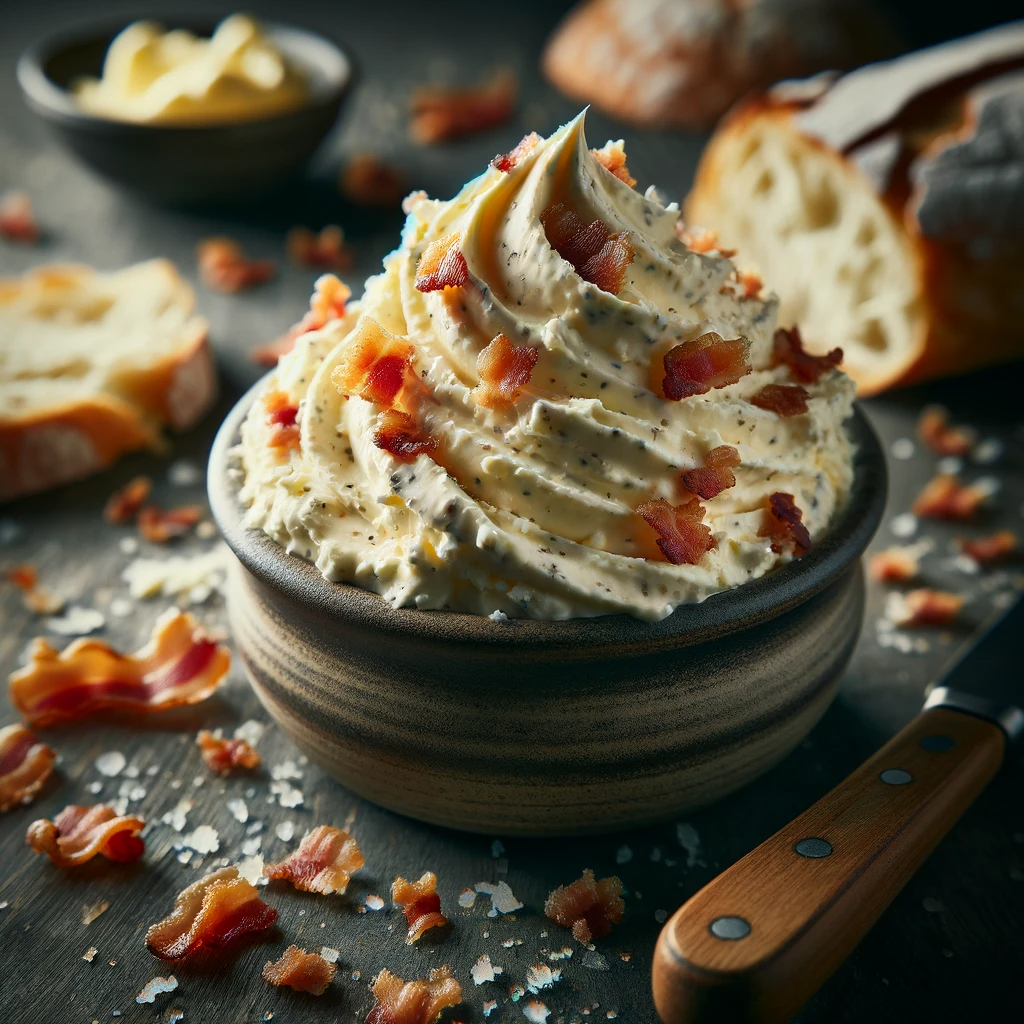 Ingredients
8 slices thick-cut bacon

2 cups unsalted butter

1 teaspoon black pepper

1 teaspoons brown sugar (optional)
Instructions
Cook the bacon in a cast-iron skillet or non-stick pan over medium heat until crisp. Remove bacon and place on paper towels to drain and cool. You can also cook the bacon in an air fryer.

In the same skillet with the bacon grease, add the butter and let it melt over low heat.

Chop the cooled bacon into small pieces.

Mix the bacon into the melted butter, stirring to combine.

Add brown sugar and black pepper to the bacon and butter mixture.

Cook on low heat, stirring frequently until the sugar is fully dissolved and the ingredients are well combined.

Remove from heat and allow to cool slightly.

If a smoother spread is desired, blend the mixture in a food processor until it reaches the desired consistency.

Transfer the butter bacon spread into a container and refrigerate until it sets and is spreadable.

Serve the butter bacon spread on toast, crackers, or use it as a base for sandwiches or burgers.
Nutrition
Calories 200 kcal |
Carbohydrate Content 1 g |
Cholesterol Content 60 mg |
Fat Content 21 g |
Fiber Content 0 g |
Protein Content 3 g |
Serving Size 1 portion |
Sodium Content 200 mg |
Sugar Content 1 g |