Candied Cashews
We're super excited to introduce a snack that's become a favorite in our home – candied cashews, which blend the sweet and spicy perfectly. We often find ourselves reaching for these candied nuts, whether as a quick snack during a busy day, as a treat during the evening or even just to add a twist to a cheeseboard!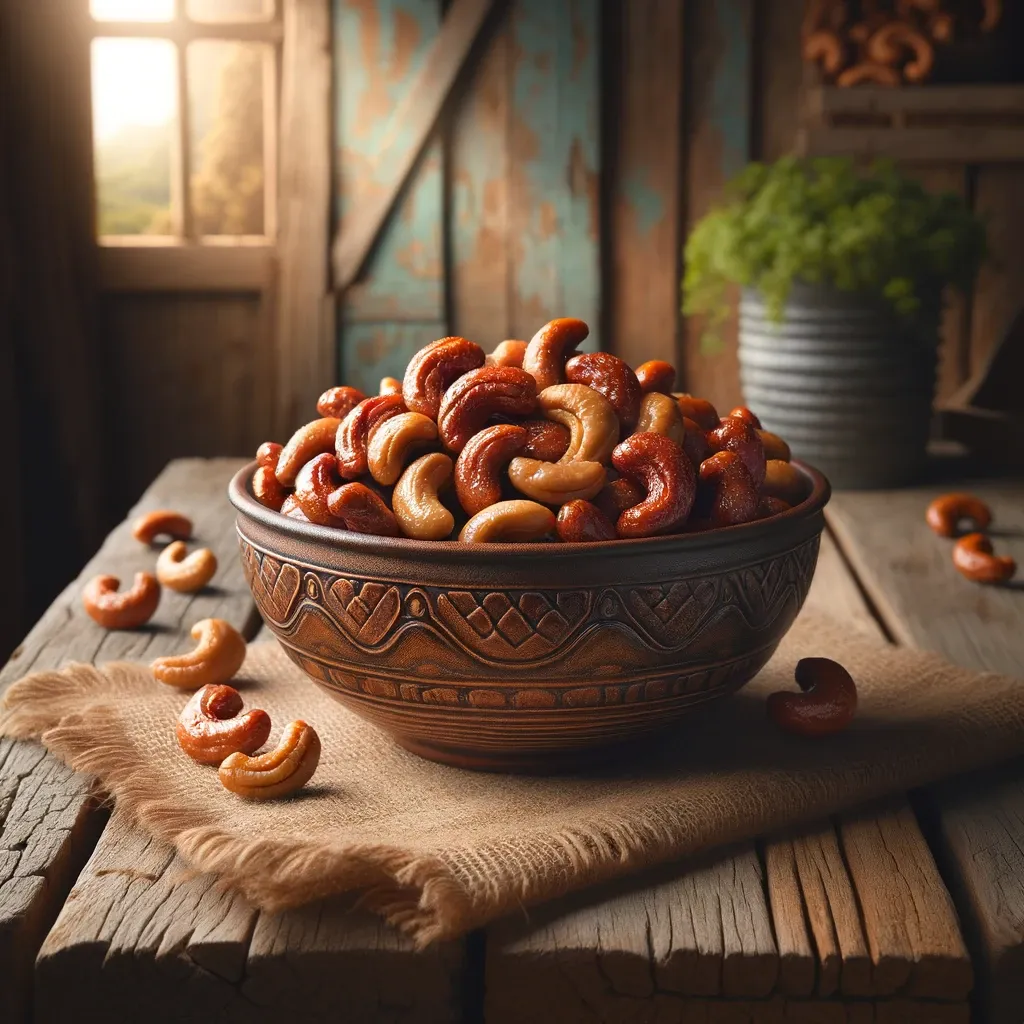 Cashews
We love cashews specifically for this recipe because of their natural sweetness. As a nut, they're also quite soft and this softness lends itself so well to the crunchier caramel coating. If you'd prefer to go for other nuts, be our guest because this recipe works well with all sorts.
Caramel coating
To make the mouthwatering caramel coating, we start by gently melting butter in a pan. As it begins to bubble, we slowly stir in brown sugar. Brown sugar imparts a rich, deep flavor that truly transforms the caramel, and as the sugar dissolves, it melds with the butter to form a luscious caramel sauce. And once we add the cashews, they toast lightly in the caramel, absorbing all its delectable flavors.
Blend of spices
The real magic happens with the addition of spices. We love the warmth of cinnamon and the subtle kick of nutmeg. But the secret ingredient – a pinch of cayenne pepper – is what sets these cashews apart. This tiny addition introduces a delightful heat that dances on the tongue, contrasting beautifully with the caramel's sweetness. If spicy isn't your thing, feel free to leave out the cayenne, but we think it adds an exciting twist!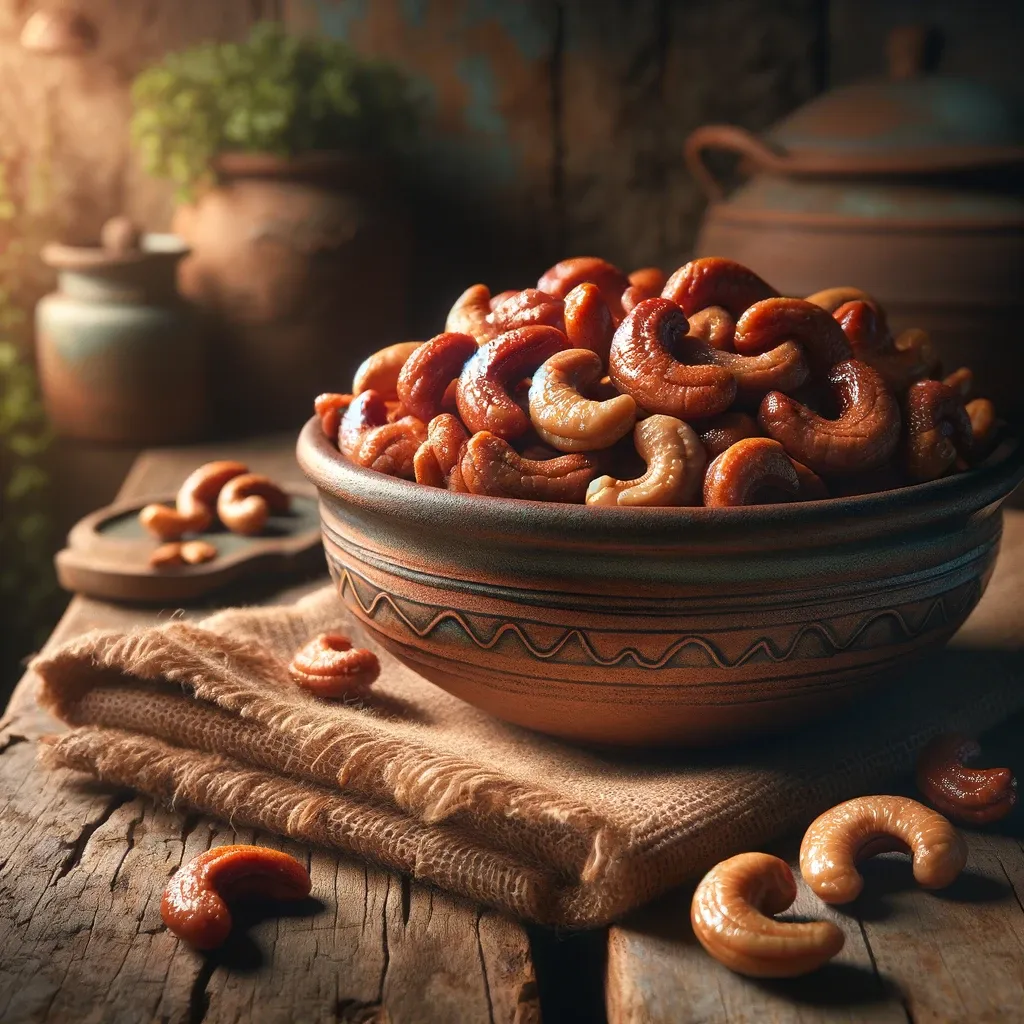 Chameleons cashews
Vanilla bean: Infusing the caramel with the essence of vanilla bean or extract adds an aromatic dimension to the cashews.

Chocolate drizzled: Drizzling melted dark or milk chocolate over the cooled candied cashews creates a decadent and irresistible snack. This variant marries the crunchy texture of cashews with the smooth, creamy richness of chocolate, making it a perfect indulgence for chocolate lovers.

Sea salt: A light sprinkle of sea salt on these caramel-coated cashews offers a lovely contrast between sweet and salty. This combination appeals to those who enjoy a nuanced flavor profile, balancing the sweetness of the caramel with the crisp, savory taste of sea salt.

Spicy chai: Mixing in chai spices like cardamom, cloves, and ginger gives the cashews a warm, aromatic twist.

Maple Syrup: Substituting maple syrup for sugar in the caramel gives a unique and rich flavor profile to the cashews. The natural sweetness and distinct taste of maple syrup elevate these cashews, especially during the fall season.

Pumpkin spice: Embracing the flavors of fall, adding pumpkin spice to the caramel mix offers a seasonal treat. This variant is perfect for autumn celebrations, bringing the flavors of pumpkin pie to a crunchy, bite-sized snack.

Espresso: Incorporating finely ground espresso or coffee beans introduces a subtle coffee-flavored kick, and this option is fantastic for coffee enthusiasts, combining the rich, bold flavors of espresso with the sweet crunch of candied cashews.

Citrus zest: Adding lemon or orange zest to the caramel mix infuses the cashews with a bright, citrusy note. This refreshing twist is perfect for those who enjoy a hint of tanginess to balance the sweetness of the caramel.
Some inspiration
Looking for some ways to use your candied cashews? We've got some ideas that we think you'll like;
Snacking: Perfect for munching on their own.
Salads: Adds a sweet crunch when sprinkled on top.
Baking: Great for adding texture and flavor to cookies, brownies, or muffins.
Toppings: Ideal for ice cream, yogurt, or oatmeal.
Cheese platters: Offers a sweet contrast in cheese boards.
Trail mix: Combines beautifully with dried fruits and nuts for a homemade mix.
Gifts: Can be packaged for a thoughtful homemade present.
Dessert garnishes: Adds flair to cakes, cupcakes, or puddings.
Breakfast cereals: Stir into morning cereals or granola.
In stir-fries: Adds a sweet crunch to Asian-inspired dishes.
Energy bars: Incorporates well into homemade energy bars.
Roasted vegetables: Sprinkles nicely over roasted veggies for a flavor twist.
Nuts about nuts?
If you're as nuts about nuts as we are, you'll love exploring our other nutty recipes. From the sweet and tangy Mashuga Nuts to the savory Cashew Shrimp, there's something for every taste bud. And for those with a sweet tooth, our Honey Roasted Cashews and Chocolate Cashews are sure to hit the spot.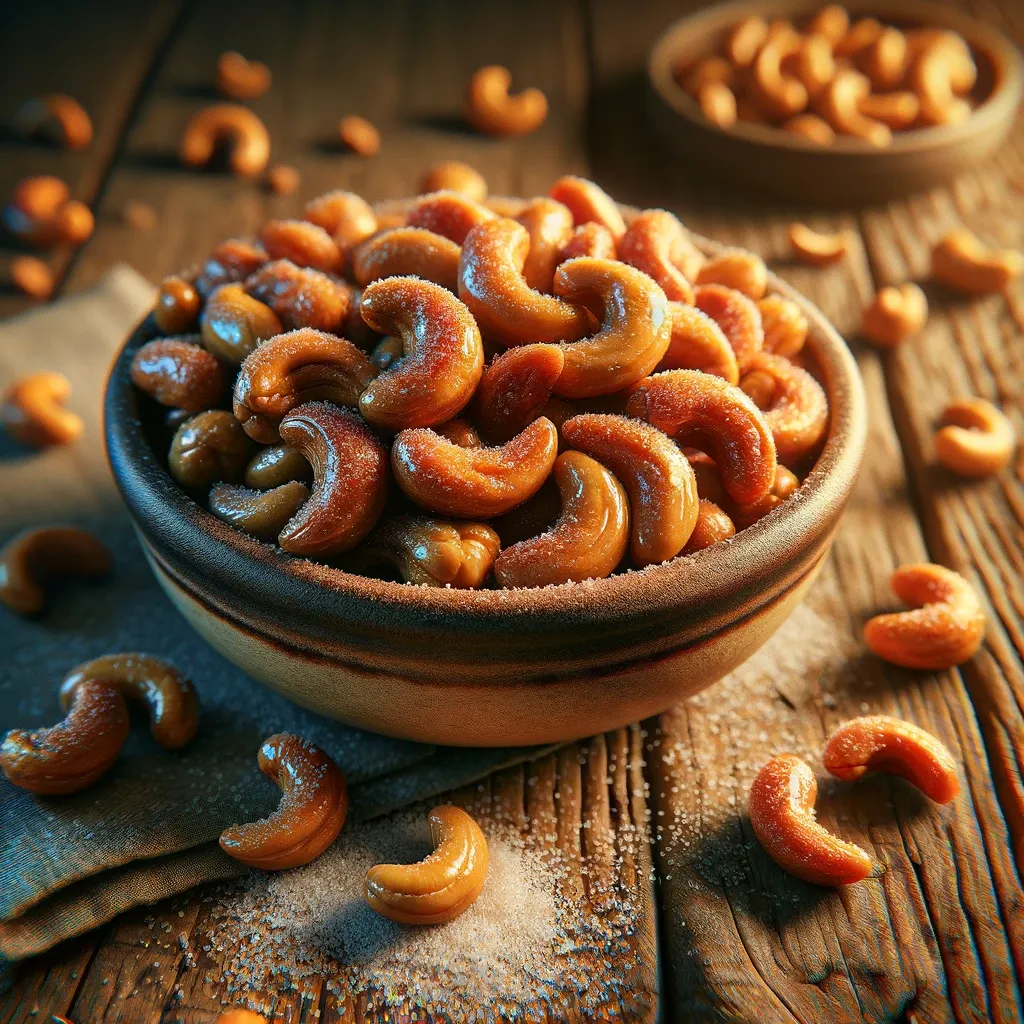 What's the best way to store candied cashews?
Candied cashews can be kept in an airtight jar for up to one week or refrigerated for up to three weeks to maintain their freshness.
Is it possible to replace cashews with other nuts in this recipe?
Definitely! Feel free to substitute cashews with almonds, pecans, or peanuts. For a varied flavor experience, you can also experiment with a mix of different nuts.
Candied Cashews
These candied cashews offer an effortless and delightful indulgence. They strike a perfect balance between sweet and spicy flavors, all while maintaining the naturally delicious taste of cashews.
Cuisine
American
Serves
6
Prep
1 min
Cook
15 mins
Total
16 mins
Calories
226 kcal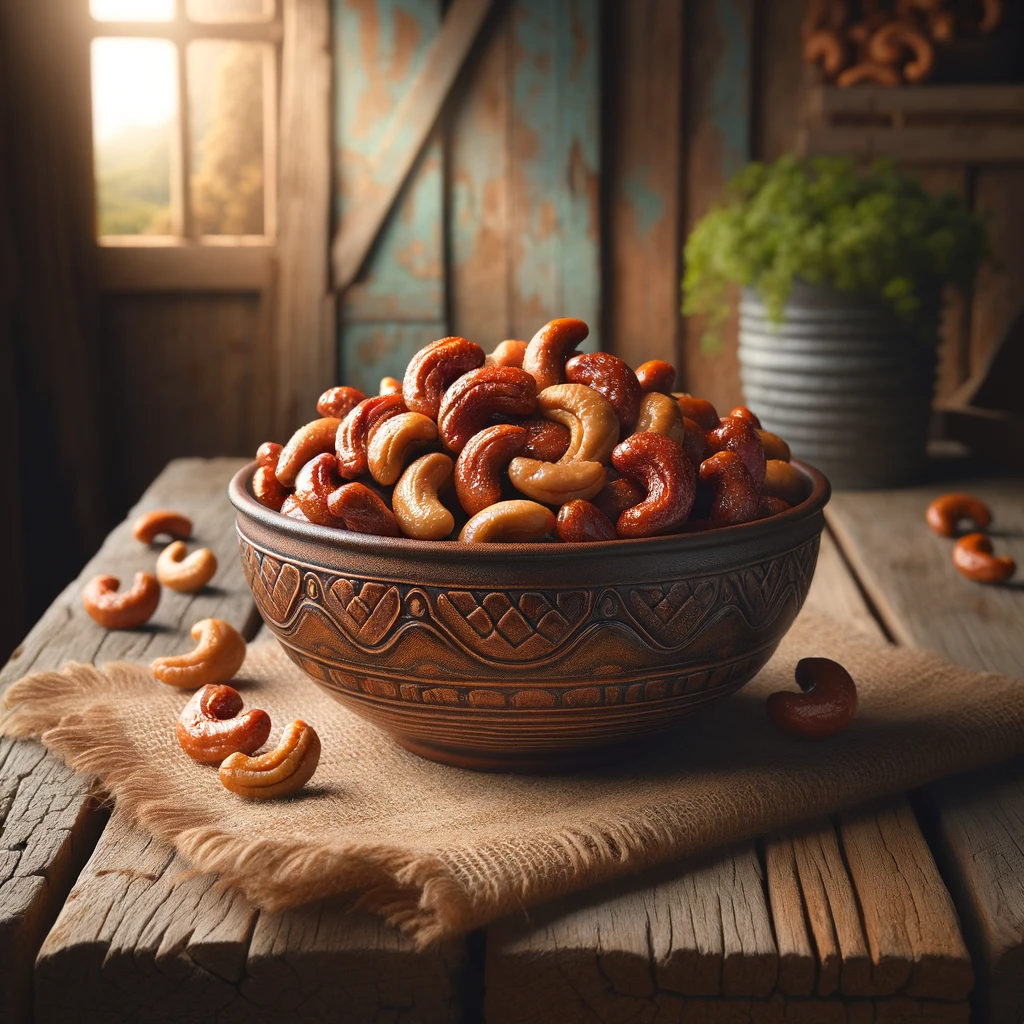 Ingredients
1 tablespoon butter

½ cup brown sugar

¼ teaspoon cinnamon

¼ teaspoon nutmeg

¼ teaspoon salt

¼ teaspoon cayenne pepper

1 cup cashews
Instructions
Melt 1 tablespoon of butter in a pot on low medium heat. Once melted, add 1 cup of cashews and ½ cup of brown sugar. Add ¼ teaspoon cinnamon, ¼ teaspoon nutmeg, ¼ teaspoon salt, and ¼ teaspoon cayenne pepper to the pot.

Mix continuously until the sugar is completely melted (roughly 10-15 minutes).

Once the sugar is melted, add 1 cup of cashews to the butter, and mix them in thoroughly. Then, spread the cashews on a tray lined with baking paper and leave the nuts and the mixture to cool until everything hardens.

Break up the nuts once everything has cooled and enjoy!
Nutrition
Calories 226 kcal |
Carbohydrate Content 25.7 g |
Cholesterol Content 5.1 mg |
Fat Content 12.9 g |
Fiber Content 0.9 g |
Protein Content 4.6 g |
Serving Size 1 portion |
Sodium Content 105.3 mg |
Sugar Content 19.3 g |