chocolate-covered Cashews
These delicious salted chocolate-covered cashews are a treat! Simple and fast to prepare, they're an excellent homemade alternative to any store-bought chocolate-covered nuts.
Nuts
Of course, we're using cashews! This is because a cashew is a sweeter, softer nut. You can substitute cashews for any nut that you prefer - you can't really go wrong with nuts and chocolate!
Sea Salt
We like to sprinkle some flaky sea salt on top of the chocolate right at the end - just before the chocolate completely hardens. The sea salt really elevates the recipe and all the components work perfectly together. This is optional, but we definitely recommend it.
Quick and easy
This recipe for salted chocolate-covered cashews so easy to make, we start by melting 7 oz. of dark chocolate in a bain-marie. Once it's completely melted, we remove it from the heat and stir in 5 oz. of cashews, ensuring they are fully coated with the chocolate. Once they're completely covered in chocolate, we prepare a tray lined with baking paper and spoon out the chocolate-covered cashews, spacing them on the baking tray. As we're letting them cool, before they harden, we add a pinch of sea salt over the clusters. It's that simple - it takes maybe 10 minutes to prepare…the hardest part it waiting for them to cool!
Top it with chocolate
We love this recipe because it's so quick to make, and these chocolate-covered cashews are just the ideal snack. We also find ourselves putting them on everything, and here are some of our tried and tested ways to use this dessert:
Dessert toppings: Sprinkle them over ice cream, yogurt, or puddings for a crunchy and rich addition.
Baking: Chop and add them to cookie dough, brownies, or muffins for a delightful twist.
Trail mix: Mix with dried fruits, seeds, and other nuts to create a luxurious trail mix.
Garnish for cakes: Decorate cakes or cupcakes with whole or halved chocolate-covered cashews for an elegant touch.
Snack boards: Include them in snack boards or charcuterie platters for a sweet and savory option.
Gifts: Package them in decorative jars or bags as homemade gifts.
Energy bites: Blend them into homemade energy bites or bars for a nutritious snack.
Granola: Incorporate into homemade granola for a chocolatey crunch.
Chocolate bark: Melt additional chocolate, spread thinly, and sprinkle with chopped cashews to make chocolate bark.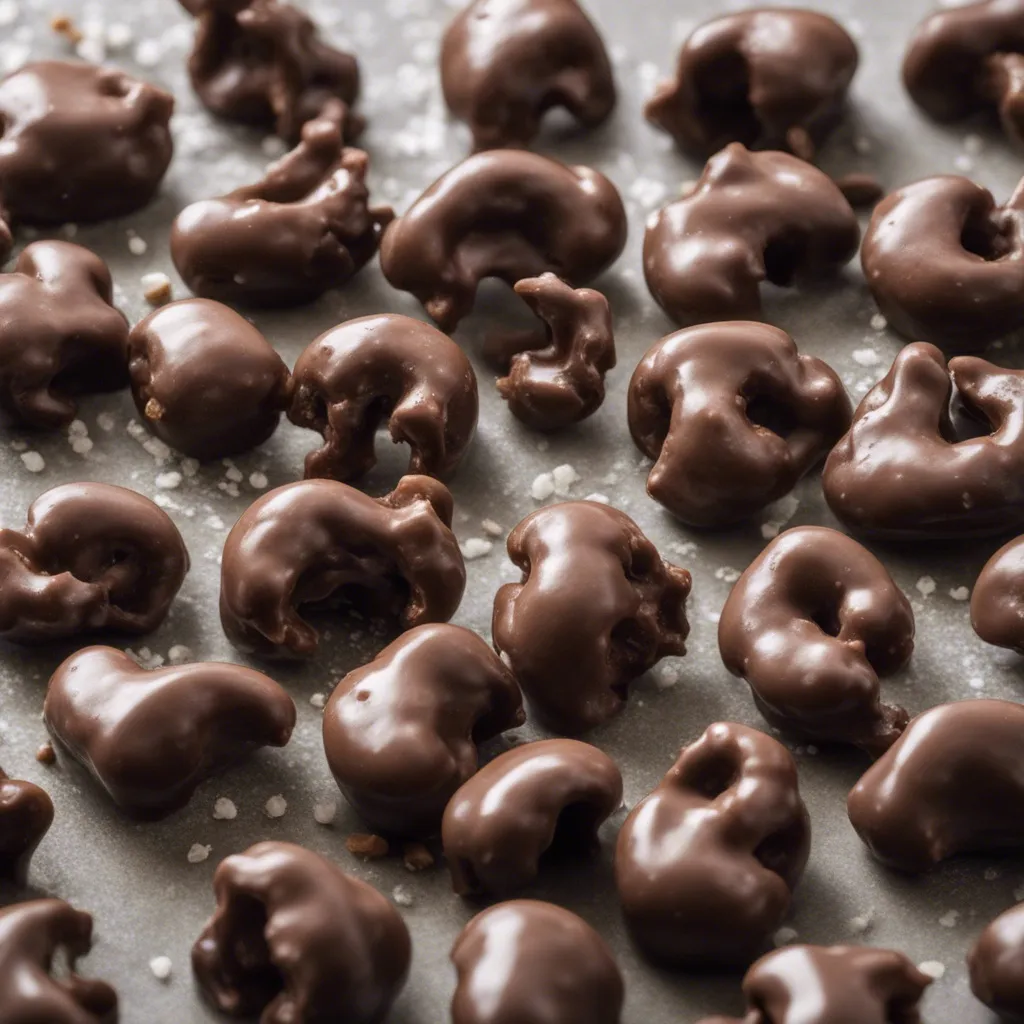 Feeling adventurous?
Whatever the recipe, we love a bit of customisation, and this one is no different. We pride ourselves for trying things out in our kitchen, and this experimentation was great, here's what we found;
Spice infusion: Add a pinch of cayenne pepper or cinnamon to the melted chocolate for a spicy or warm flavor twist.
Flavored Chocolate: Use flavored chocolate like mint, orange, or raspberry for a unique taste.
White chocolate drizzle: After coating with dark chocolate, drizzle white chocolate over the cashews for a visually appealing and tasty contrast.
Sea salt & caramel: Drizzle caramel over the chocolate-covered cashews, then sprinkle with sea salt.
Toffee bits: Roll the chocolate-coated cashews in toffee bits for extra crunch and flavor.
Coconut coating: After dipping in chocolate, roll the cashews in shredded coconut.
Espresso powder: Mix a little espresso powder into the melted chocolate for a coffee-flavored treat.
Matcha powder: Dust the chocolate-covered cashews with matcha powder for a unique, earthy flavor.
Citrus zest: Add lemon or orange zest to the chocolate mix for a citrusy kick.
Crushed berries: Sprinkle freeze-dried raspberry or strawberry powder over the chocolate for a fruity touch.
Nuts about nuts?
We definitely are, and that's why we have so many other irresistible nut recipes for you to try;
What type of chocolate is best for making these clusters?
You can use either milk chocolate or dark chocolate, depending on your preference. Some people even like a combination of both for a sweet and slightly bitter flavor. Use high-quality chocolate for the best results.
How do I store chocolate-covered cashew clusters?
Store chocolate-covered cashew clusters in an airtight jar at room temperature. If the weather is warm, it's best to refrigerate them to prevent the chocolate from melting.
Can I use different nuts instead of cashews for this recipe?
Certainly! You can use unsalted mixed nuts like almonds, peanuts, or pecans to make chocolate-covered nut clusters. The choice of nuts can add different flavors and textures to the clusters.
How long do chocolate-covered cashew clusters stay fresh?
When stored properly, chocolate-covered cashew clusters can stay fresh for about 2-3 weeks. Be sure to keep them in an airtight jar to prevent them from becoming stale.
Can I add other ingredients like dried fruit or coconut to the clusters?
Yes, you can customize your chocolate-covered cashew clusters by adding ingredients like dried cranberries, shredded coconut, or even a sprinkle of sea salt for extra flavor and texture. Get creative with your additions!
chocolate-covered Cashews
These salted chocolate-covered cashews are such a delicious treat! They're so quick and easy to make and will substitute any chocolate-covered nut that you can buy at the store.
Cuisine
American
Serves
12
Prep
15 mins
Cook
15 mins
Total
30 mins
Calories
161 kcal
Ingredients
7 oz. dark chocolate

5 oz. cashews

Pinch of sea salt
Instructions
Melt the dark chocolate in a bain-marie. Once all of the chocolate is melted, take it off the heat.

Mix in all of the cashews in the melted chocolate until all the nuts are thoroughly coated in chocolate.

Line a tray with baking paper and use a half tablespoon measure to spoon the chocolate-covered cashews onto the baking paper. Make sure to leave at least 1 inch of space between each half tablespoon of chocolate cashew clusters.

Leave the chocolate-covered cashews to cool and before they harden completely, sprinkle the pinch of sea salt onto the chocolate-covered cashew clusters. Once the clusters have cooled and hardened, enjoy this delicious treat!
Nutrition
Calories 161 kcal |
Carbohydrate Content 12.3 g |
Cholesterol Content 1 mg |
Fat Content 11.5 g |
Fiber Content 1.7 g |
Protein Content 3.2 g |
Serving Size 1 portion |
Sodium Content 196.9 mg |
Sugar Content 6.8 g |