Cheeseburger Sub
Recently, we came across this cheeseburger sub idea, tried it out for ourselves and we were not disappointed. This cheeseburger sub is juicy, indulgent and so easy to make.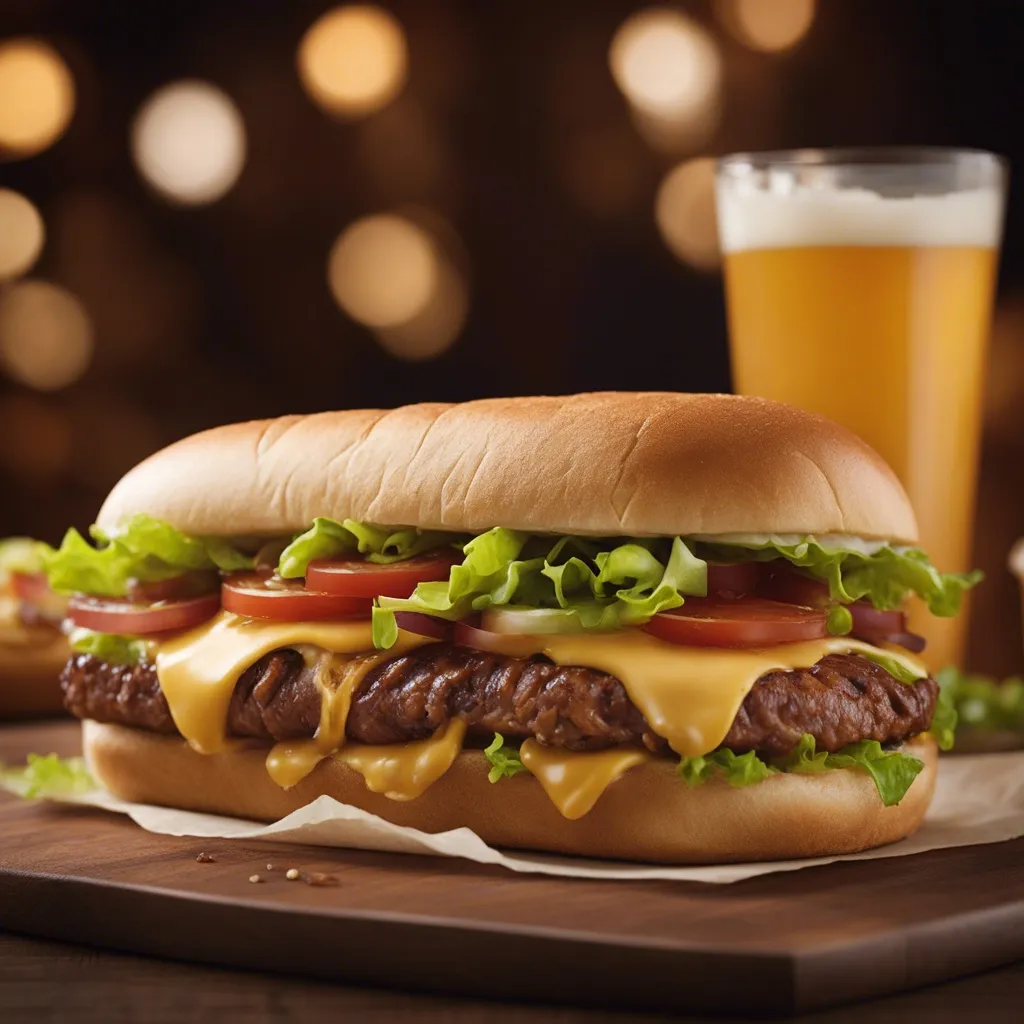 Sub Roll
For our ultimate sub, we use a slightly toasted brioche roll to hold everything together. Of course, any sub roll will do, but we recommend trying out a brioche roll because it gives the sub a subtle sweetness that complements the saltiness of the meat and the spicy sauce.
Burger meat
We cook the burger meat a little bit of garlic powder, salt and pepper (you can try out our Stone House Seasoning recipe if you find yourself reaching for these ingredients time and time again). We shape the meat into long patties and we try to crisp them in a cast-iron skillet by smashing the patties in the pan with a spatula to get them as thin as possible.
If you don't have a skillet, that's not a problem for this recipe, a non-stick frying pan will work just fine. If you do have a skillet, we recommend using it to crisp up the meat. Whichever method you go for, make sure to drain the meat of any excess liquid before adding it to the roll so as not to have a soggy sub!
Cheese
What's a sub without cheese? For our sub, we add slices of cheddar and mozzarella or some American cheese once all our meat is cooked well. This gives the sub a little bit of tangy cheese with each bite. Of course, you can substitute cheddar or mozzarella for your cheese preferences. We also recommend Swiss cheese, Gouda or Gruyère.
Special sauce
Our special sauce is a mix of mayonnaise, sriracha chili sauce and garlic powder - this is our perfect burger sauce. If you prefer a milder sauce, skip out on the sriracha sauce and just mix your mayonnaise with garlic powder for a tasty sauce on your sub.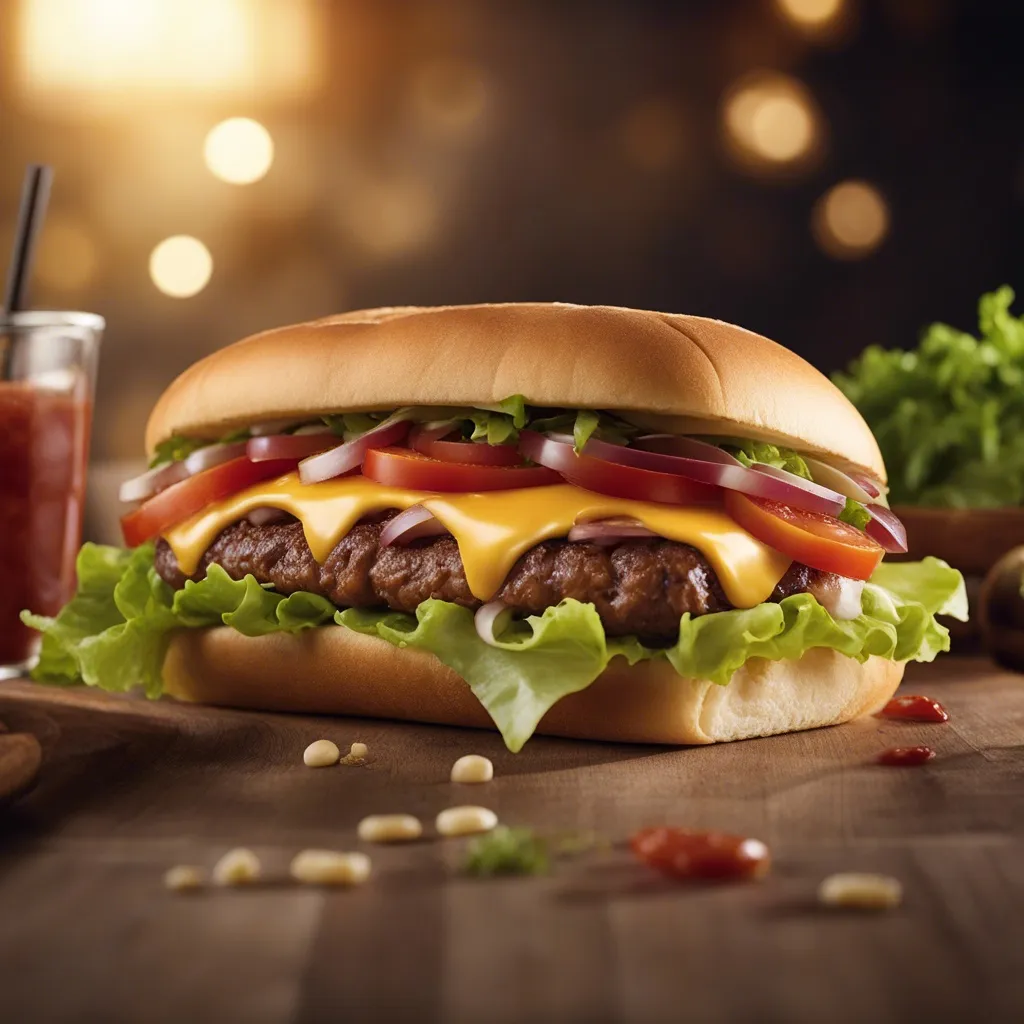 Sub with a twist
Feeling a little bit adventurous with your cheeseburger sub? We've been there…many times, and we have a few ideas on how to add a twist to your subs;
Roasted Red Peppers: These offer a wonderfully sweet and smoky flavor, making them a superb addition for a touch of Mediterranean flair. They bring a delicious contrast to the savory elements of the sub.

Blue Cheese Crumbles: For a bold and tangy twist, blue cheese adds a unique sharpness, creating a contrast with the rich, savory meat of the burger.

Grilled Pineapple: Adding a slice of grilled pineapple introduces a tropical sweetness and slight acidity, perfectly balancing the savory aspects of the cheeseburger with its natural, juicy sweetness.

Sun-dried Tomatoes: These provide a more intense and concentrated tomato flavor than fresh tomatoes, along with a pleasing chewy texture and a hint of sweetness, bringing a unique twist to the sub.

Arugula: Opting for arugula instead of traditional lettuce introduces a peppery, slightly bitter taste, which adds a layer of complexity and a fresh, leafy component to the sub.

Caramelized Onions with Balsamic Glaze: Add caramelized onions with a drizzle of balsamic glaze adds a rich, sweet, and tangy element, making the onions' natural flavors pop.

Fried Egg: We always love to put an egg on it - topping the sub with a sunny-side-up egg with a runny yolk gives yet another texture that complements the burger beautifully.

Kimchi: Incorporating kimchi brings a Korean twist with its spicy, tangy, and slightly sweet crunch, adding a spicy, delicious flavor profile to the sub.

Smoked Gouda or Gruyère Cheese: Switching to smoked Gouda or Gruyère introduces a deeper, smoky flavor and excellent melting qualities, adding a gourmet cheese experience to the sub.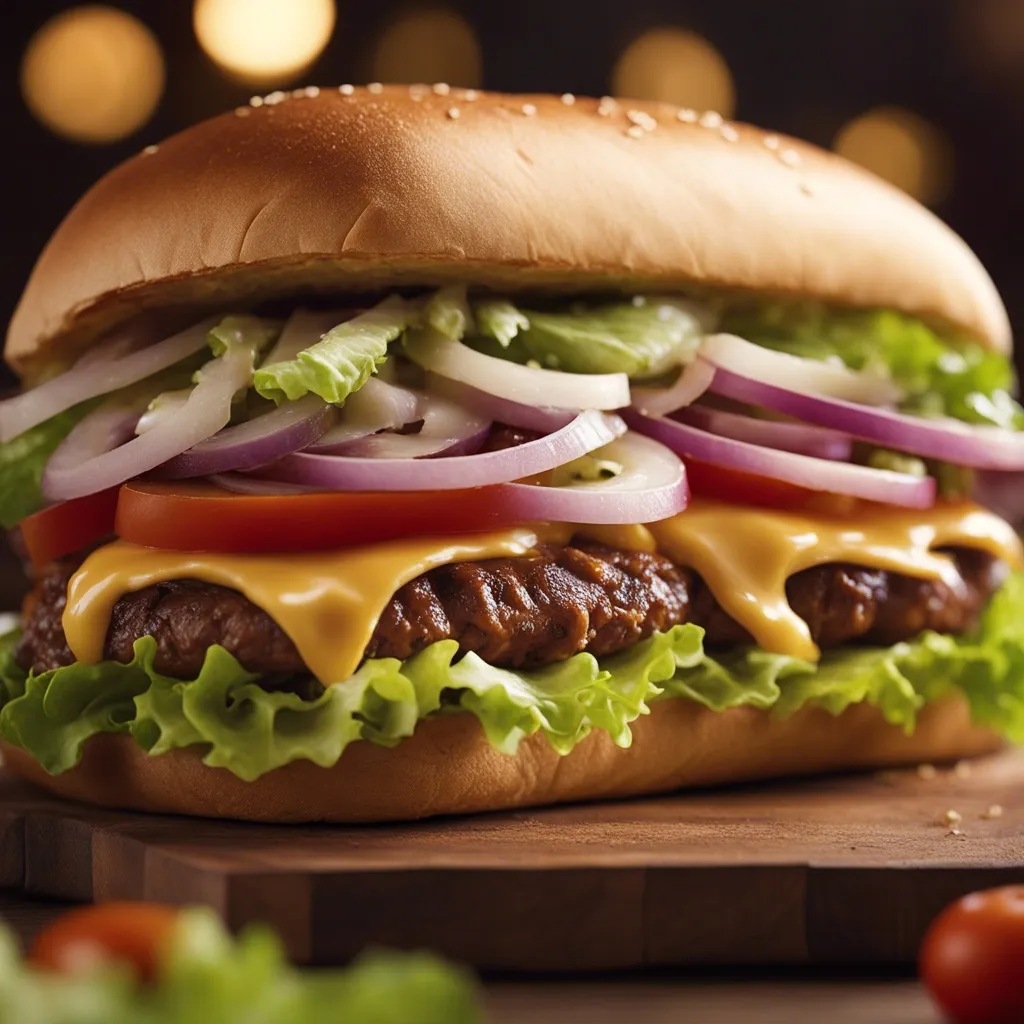 Can I store the special sauce in the fridge?
Yes, store the special sauce in an airtight container in the fridge for roughly 2 months. We like to make the special sauce in bulk so that we can use it whenever we need to (really, we use this sauce on anything and everything).
What toppings can I add to my cheeseburger sub?
One addition that we recommend is bacon - you simply cannot go wrong with a cheeseburger sub and some cheeky crispy bacon. If you'd like to make your sub little bit spicier, we recommend chopping up approximately 10 jalapeño slices and adding them to the top of your sub.
What can I serve with cheeseburger subs?
In our kitchen, it's all about sides that complement our cheeseburger subs.
We have to start off by mentioning the classic pairing of fries or potato wedges. Then there's coleslaw - an absolute game changer! Its creamy texture and tangy zest offer a refreshing contrast to the sub's richness. Onion rings are another favorite, adding a lovely crunch and a subtle sweetness that's hard to resist. Of course, a side salad is a great healthy choice; it's crisp and brings a burst of freshness. And let's not overlook roasted veggies - bell peppers, onions, potatoes, broccoli - this is a perfect way to add some greens to your meal while also adding a pop of color to the plate. Each of these sides not only complements the sub but also makes the meal more well-rounded.
Cheeseburger Sub
Recently, we came across this cheeseburger sub idea, tried it out for ourselves and we were not disappointed. This cheeseburger sub is juicy, indulgent and so easy to make.
Cuisine
American
Serves
4
Prep
15 mins
Cook
15 mins
Total
30 mins
Calories
557 kcal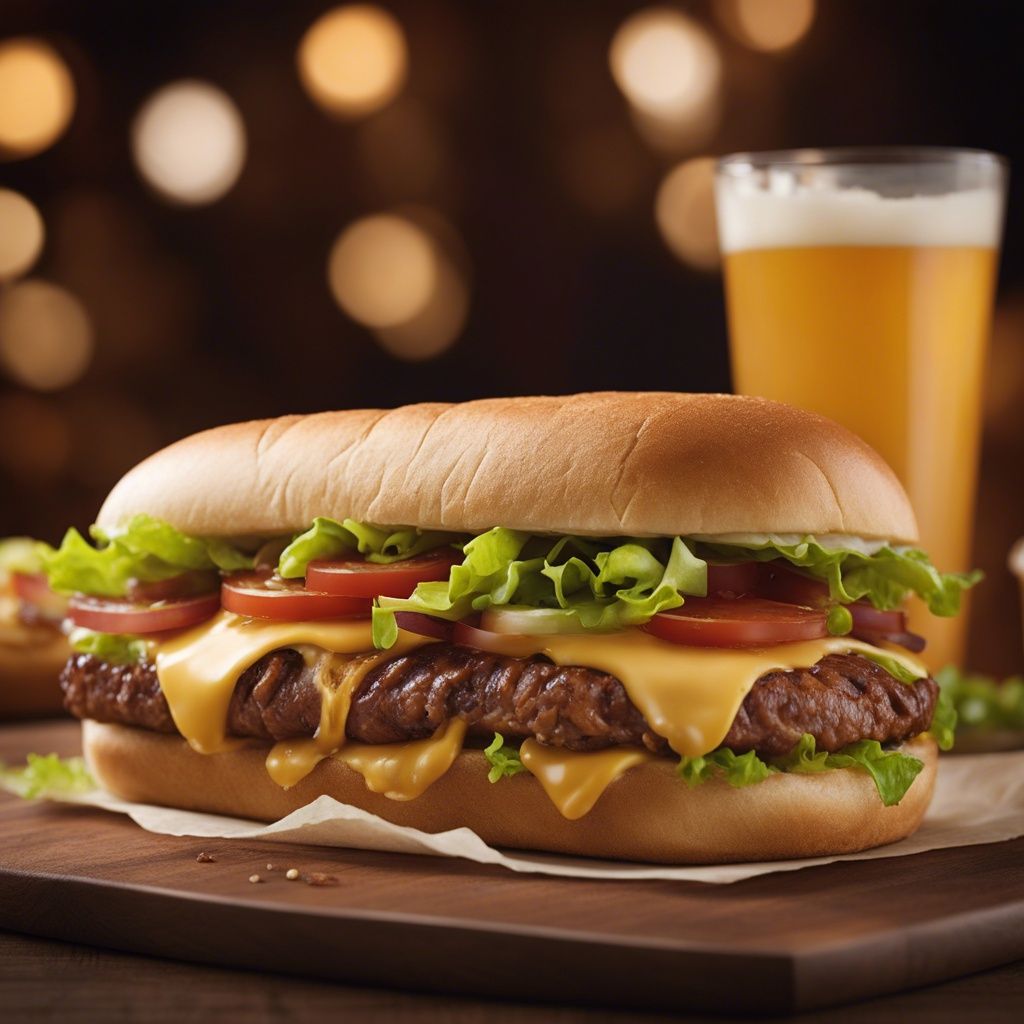 Ingredients
2 lbs minced beef (20% fat)

1 teaspoon garlic powder

1 teaspoon kosher salt

1 teaspoon pepper

4 slices cheddar

4 slices mozzarella

½ cup mayonnaise

1 teaspoon garlic powder

2 teaspoons sriracha hot chili sauce

4 toasted brioche sub rolls

4 shredded lettuce leaves

1 sliced red onion

2 sliced tomatoes
Instructions
Begin by mixing in 1 teaspoon garlic powder, 1 teaspoon salt and 1 teaspoon pepper into the minced meat. Shape the meat mix into long burger patties.

Heat up your cast-iron skillet or non-stick frying pan over medium heat. Once the pan is hot, add your patties to the pan and cook for approximately 20 minutes, using a spatula to smash them slightly (this will help to crisp up the meat). Remember to flip the meat to cook both sides.

Prepare the special sauce by combining ½ cup of mayonnaise, 1 teaspoon of garlic powder, and 2 teaspoons of sriracha hot chili sauce.

Once the meat has turned brown, top it with cheddar and mozzarella slices and allow to melt for a few minutes. If you have a lid for your pan, put it on the help the cheese melt quicker. Turn off the heat and remove any excess liquid.

To assemble your cheeseburger subs, spread the special sauce on a bun, add some lettuce, your patty with melted cheese and top it off with tomato and red onion slices.
Notes
If you are using meat with 20% fat, then you won't need to add oil to the cast-iron skillet or frying pan when cooking the minced meat since the fat will be enough to oil the pan. If you're using a leaner mince such as 5% fat, then you might need to add a little bit of oil to the pan.

Try using a cast-iron skillet to cook the meat if you have one so that you can crisp up the meat. However, if you don't have a cast-iron skillet, it's not a problem for this recipe.
Nutrition
Calories 557 kcal |
Carbohydrate Content 31.8 g |
Cholesterol Content 96.4 mg |
Fat Content 34.6 g |
Fiber Content 4.1 g |
Protein Content 29.7 g |
Serving Size 1 portion |
Sodium Content 1316.5 mg |
Sugar Content 9.9 g |