Egg Burger
An Egg Burger is a delicious and hearty twist on the traditional burger - this type of burger combines the savory taste of a classic beef patty with the unique texture and taste of an egg, creating a meal that is especially popular for brunch or a filling lunch.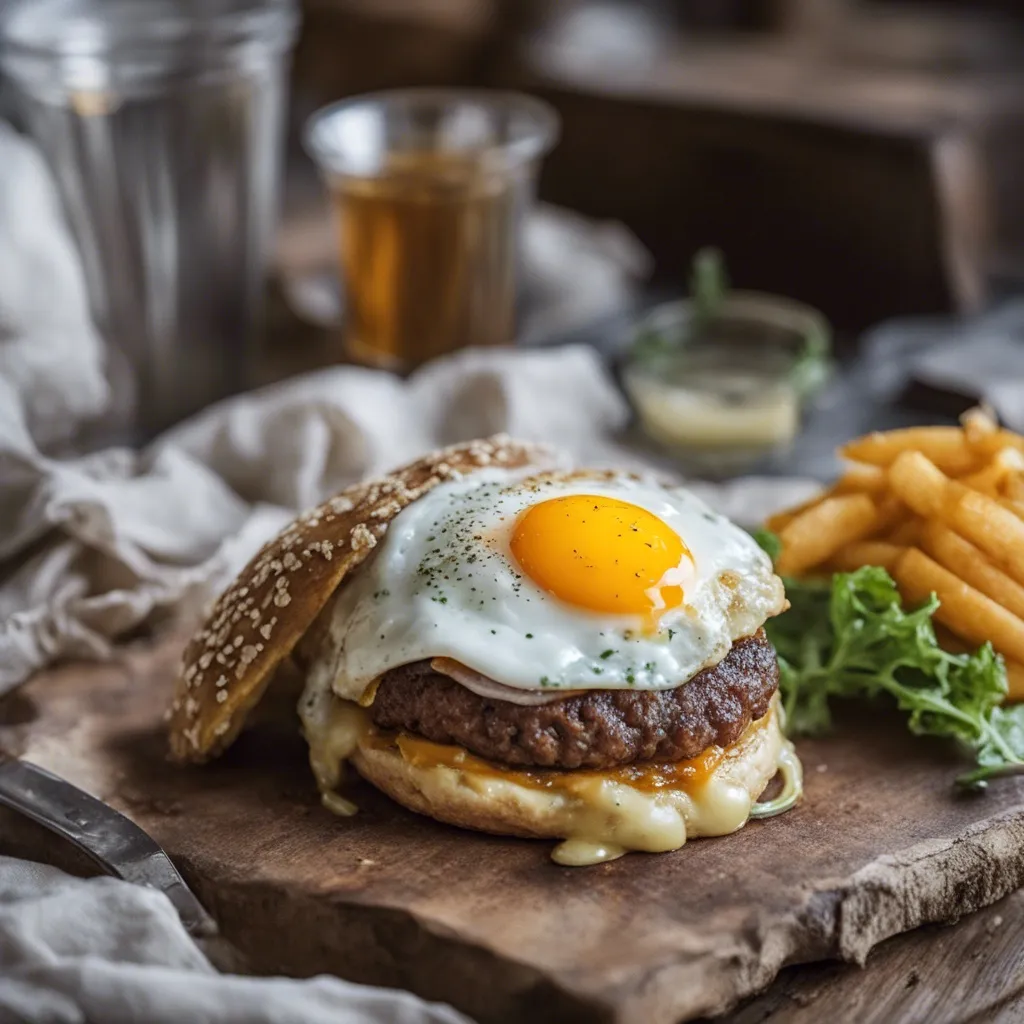 The patty: We use ground beef for this recipe and shape the meat into patties, but you could also swap beef out for chicken, turkey or plant-based patties. We aim for medium, and we use a cooking thermometer to help use with the cook, but we also have a nifty chart to help with the cooking process depending on your preference;

| Cook | Timing Per Side | Temperature |
| --- | --- | --- |
| Medium-rare | 3 min | 130°F-135°F |
| Medium | 3.5 - 4 min | 140°F-145°F |
| Medium-well | 4.5 min | 150°F-155°F |
| Well done | 5 min | 160°F-165°F |

The egg: The heart of an egg burger is a fried or poached egg; the egg is usually cooked so that the yolk remains slightly runny, providing a creamy, rich texture.

The bun: A soft, yet sturdy bun like a brioche or sesame seed bun is perfect for thie recipe - the bun should be able to absorb the egg's yolk without becoming too soggy. We definitely recommend a beautiful brioche bun as it adds a subtle sweetness to the dish.

Toppings and condiments: Common toppings include lettuce, tomato, onion, cheese, and other condiments ranging from ketchup and mustard to more gourmet options like aioli or a spicy mayo. If you're looking for just the right condiment, we recomment our chili aioli which is a great sauce on this burger.

Cheese: Our preference for cheese for this burger leans towards milder types like Gouda or Monterey Jack, with Monterey Jack being our top pick because it melts beautifully and has a deliciously gooey texture.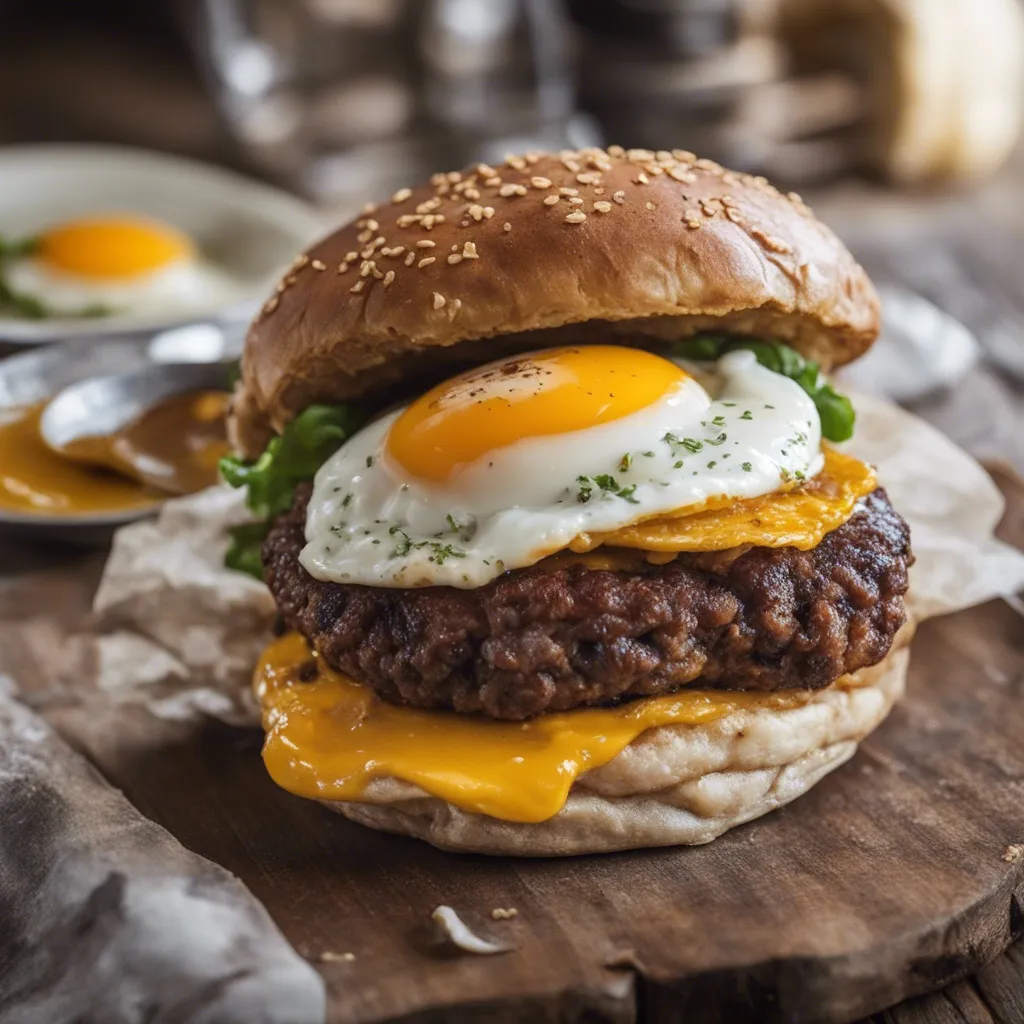 Variety is the spice of life
We love to customise our burgers, especially if we're having themed dinner parties so here are our favorite variations:
Avocado & sriracha: Add sliced avocado and Sriracha sauce for a creamy, spicy kick.

Mushroom & swiss: Include sautéed mushrooms and Swiss cheese for rich flavor.

Breakfast burger: Top with crispy bacon and sharp cheddar cheese.

Spinach & feta: Mix in fresh spinach and crumbled feta cheese for a Mediterranean twist.

BBQ burger: Add BBQ sauce and caramelized onions for a sweet and savory taste.

Kimchi & gochujang: Include kimchi and gochujang (Korean chili paste) for a spicy, tangy flavor.

Hawaiian: Top with grilled pineapple for a tropical touch.

Greek: Add Kalamata olives, cucumber, and tzatziki sauce for a Greek theme.

Tex-Mex: Include black beans, corn, jalapeños, and sour cream for Tex-Mex flair.
What are some great side dishes to serve with an egg beef burger?
Serve your egg burger with a side of fries, potato wedges or onion rings. If you're looking for a healthier option, a garden salad is a great choice as it will bring some freshness to your plate.
Can I use a different type of egg for the burger?
Certainly! While we prefer a classic fried egg, you can experiment with other styles like poached, omelette, or even a soft-boiled egg sliced in half for a unique twist - each style brings its own texture and flavor to the burger.
How can I prevent the burger from becoming too soggy from the egg yolk?
To avoid a soggy bun, you can lightly toast the brioche buns which will help them stand up better to the yolk. Also, placing lettuce or another barrier between the bun and the burger can help absorb some of the yolk.
Is it possible to make a healthier version of the egg burger?
Yes, for a healthier take, opt for a whole wheat bun, lean meat for the burger, or a turkey patty. You can also add more greens like spinach or arugula and use a lighter cheese or omit the cheese entirely. For the egg, reduce the amount of oil used for frying or omit it entirely with a good non-stick frying pan; alternatively, opt for poaching the egg instead.
What toppings go well with an egg on a burger?
In addition to the classic lettuce and tomato, avocado slices or avocado mash, caramelized onions, a slice of bacon or sautéed mushrooms can add fantastic flavor and texture to an egg burger.
Egg Burger
We love our eggs and often find ourselves following the simple yet delicious mantra of 'put an egg on it', and this approach truly transforms our burgers, with the rich egg yolk adding a depth of flavor that bursts with every bite.
Cuisine
American
Serves
4
Prep
15 mins
Cook
15 mins
Total
30 mins
Calories
586 kcal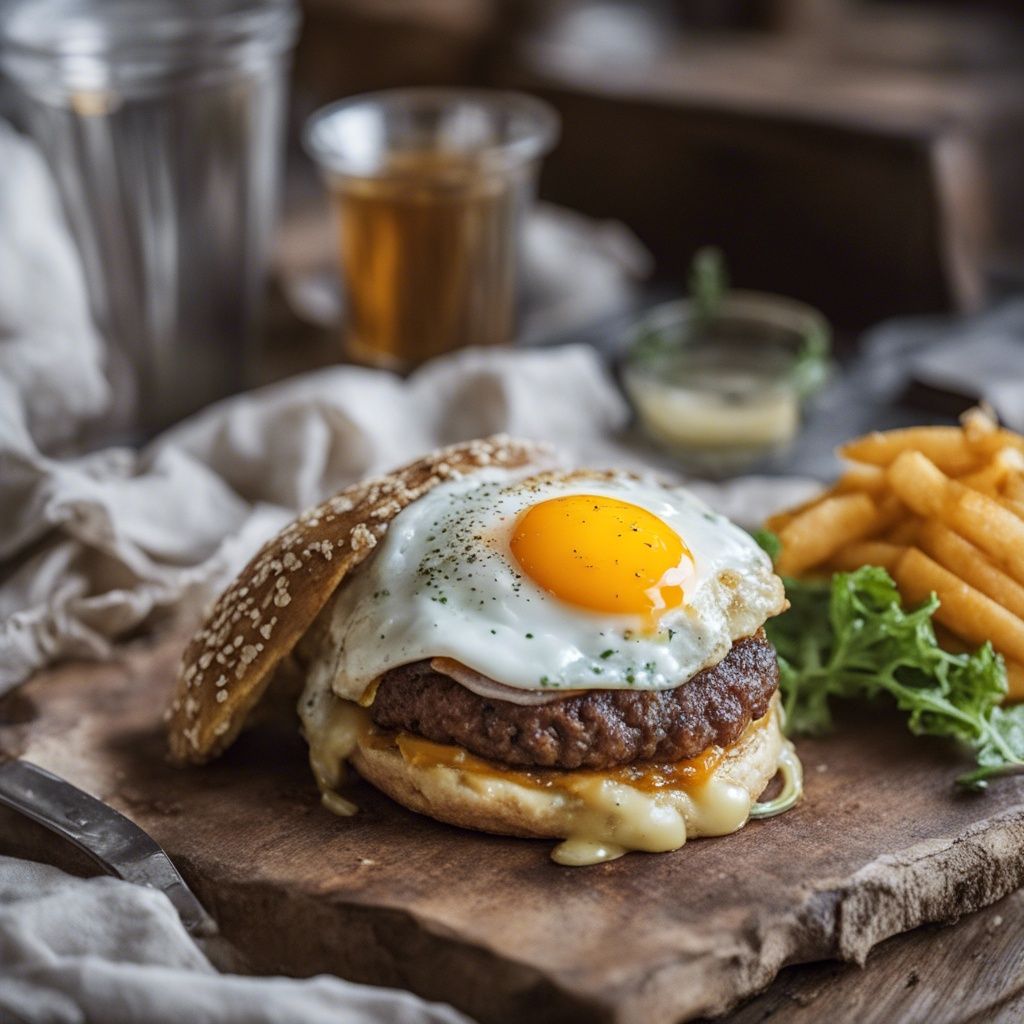 Ingredients
¼ cup mayonnaise

½ teaspoon garlic powder

2 teaspoons sriracha hot chili sauce

1 lb minced beef or 4 burger patties

4 toasted brioche buns

1 sliced tomato

1/2 teaspoon paprika

1 cup shredded lettuce

4 slices Monterey Jack

4 eggs

2 tablespoons cooking oil
Instructions
To make your burger sauce, add ¼ cup mayonnaise, 2 teaspoons of sriracha hot chili sauce, and ½ teaspoon of garlic granules to a bowl and mix thoroughly.

If you are using minced meat, shape your burger patties and sprinkle some salt and pepper onto the patties. Place a cast-iron skillet or non-stick frying pan on medium-high heat, and use 1-2 tablespoons cooking oil if required. Once the cast iron skillet is hot, add the patties (if the patties don't sizzle when touching the pan, then the pan is not hot enough yet). Cook the patties on each side for 3-4 minutes (medium cook) and add the cheese on top of the patties after the last flip. Additionally, cover the pan with a lid to help the cheese melt.

Fry the eggs in the cast-iron skillet on a medium to high heat once the patties are cooked to your liking.

Assemble the burger to your liking! We recommend adding some burger sauce to the bottom bun, followed by lettuce and tomato, the cheese patty and topped off with a beautiful fried egg.
Notes
For perfectly melted cheese and a professional fried-egg, add 1-2 tablespoons of water to the pan or skillet while melting the cheese and cooking the eggs. Once you add the water, cover the pan or skillet with a lid so that the water evaporates, and within a couple of minutes, you will have beautifully melted cheese and a flawless fried egg - this is one of our top tips.
Nutrition
Calories 586 kcal |
Carbohydrate Content 22.7 g |
Cholesterol Content 284.5 mg |
Fat Content 35.5 g |
Fiber Content 1.7 g |
Protein Content 42.6 g |
Serving Size 1 portion |
Sodium Content 624.1 mg |
Sugar Content 5.5 g |