Wasabi Aioli
Welcome to the culinary crossroads where East meets West in the form of Wasabi Aioli. This dish represents a harmonious blend of the creamy, garlicky goodness of traditional Mediterranean aioli with the sharp, piquant flavors of Japanese wasabi. It's a condiment that's both a conversation starter and a palate pleaser.
Whether you're a condiment connoisseur or just looking to spice up your meals, Wasabi Aioli is an adventure for your taste buds. It's more than just a sauce; it's a gastronomic experience that brings together the best of two culinary worlds. So go ahead, give your dishes a dollop of this creamy, zesty wonder and watch your meals transform from ordinary to extraordinary!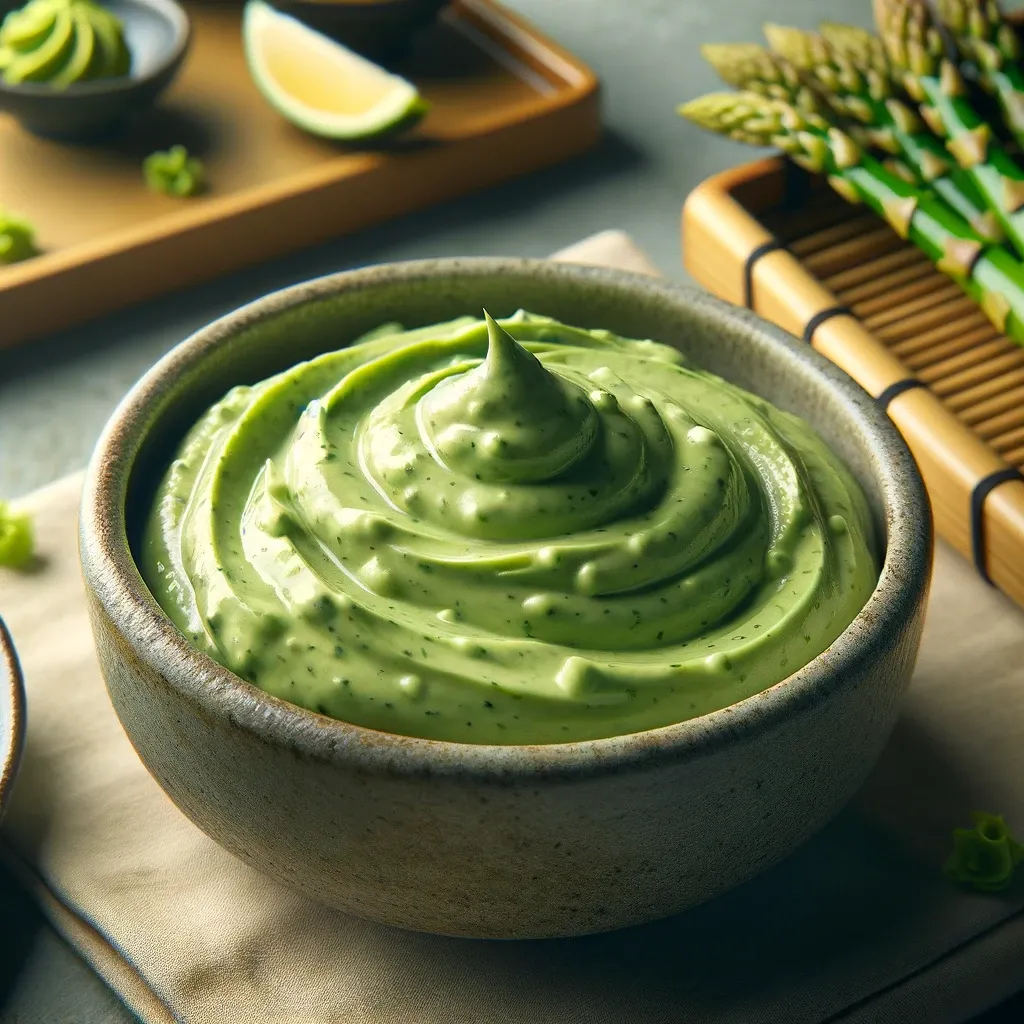 Ingredients: The Best of Both Worlds
To create this fusion aioli, we begin with the finest ingredients:
Aioli Base: At the heart is aioli, a Mediterranean sauce similar to mayonnaise but infused with garlic and olive oil for a rich and creamy texture.
Wasabi: We then introduce wasabi, a Japanese horseradish that brings a unique heat - which unlike chili, hits the sinuses more than the tongue.
Lemon Juice: A squeeze of lemon adds a bright citrus note, balancing the richness of the aioli.
Salt and Pepper: Just a pinch to enhance all the flavors involved.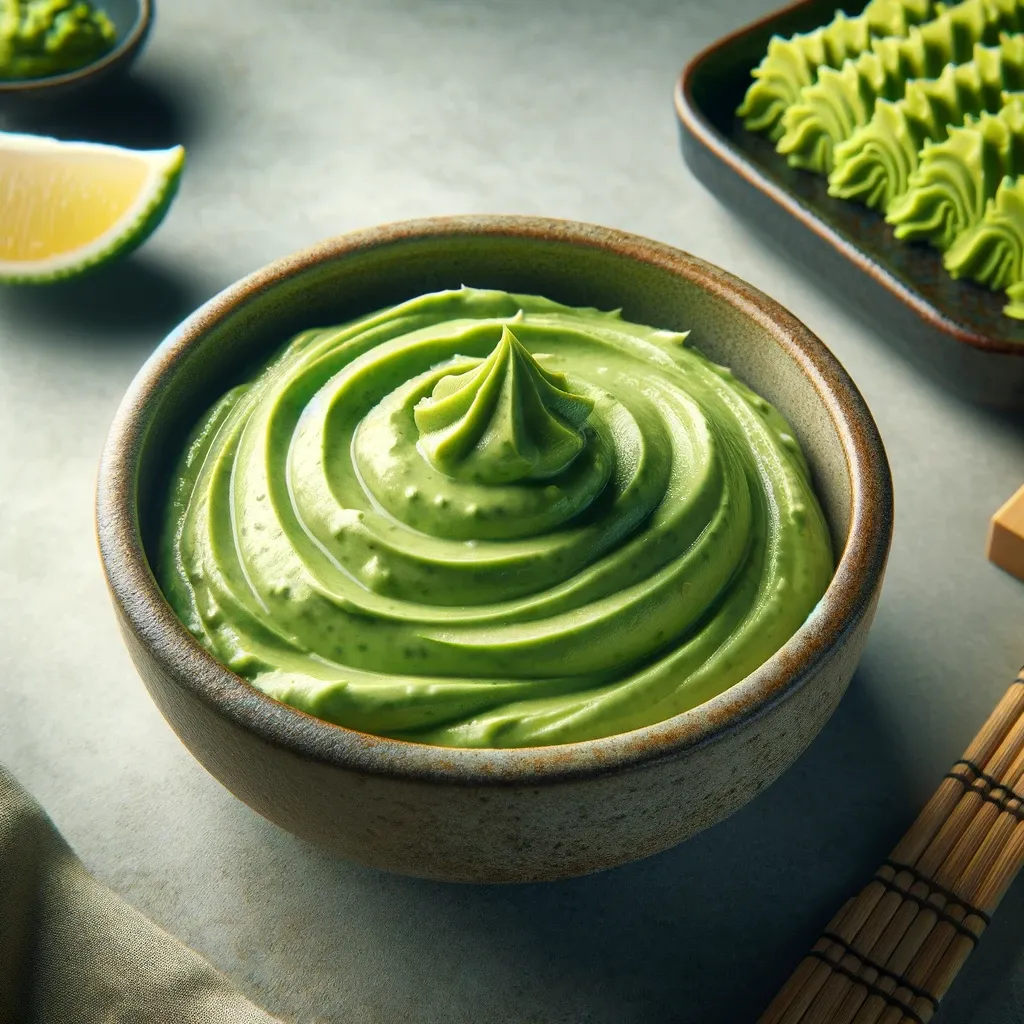 Aioli everything
If you're like us and find yourself putting aioli (in all its glorious variations) on everything, here are some more recipes that'll scratch the aioli itch:
What does Wasabi Aioli taste like?
Wasabi Aioli is a creamy and smooth condiment with a mellow garlic flavor that is suddenly uplifted by the sharp, punchy hit of wasabi. The heat is more sinus-targeting than tongue-tingling, creating a unique taste experience.
How can I use Wasabi Aioli?
Wasabi Aioli is extremely versatile. It's excellent as a spread for sandwiches, as a dip for fries, crudité, or tempura, and it can also add a delightful twist to your salads when used as a dressing.
Is Wasabi Aioli very spicy?
The spiciness of Wasabi Aioli can be adjusted to taste, but typically, the wasabi provides a distinctive warmth that is tempered by the creamy aioli. It's designed to be pleasantly zesty without being overpowering.
Can I make Wasabi Aioli at home?
Yes, making Wasabi Aioli at home is quite simple. You need a base of aioli or mayonnaise, fresh or prepared wasabi, and a few other ingredients like lemon juice, salt, and pepper to create this flavorful sauce.
Wasabi Aioli
Wasabi Aioli combines the creamy texture of aioli with the spicy kick of wasabi for a condiment that's perfect as a dip, spread, or dressing. It's easy to make and brings a bold twist to any dish!
Cuisine
Fusion
Serves
4
Prep
10 mins
Cook
0 mins
Total
10 mins
Calories
94 kcal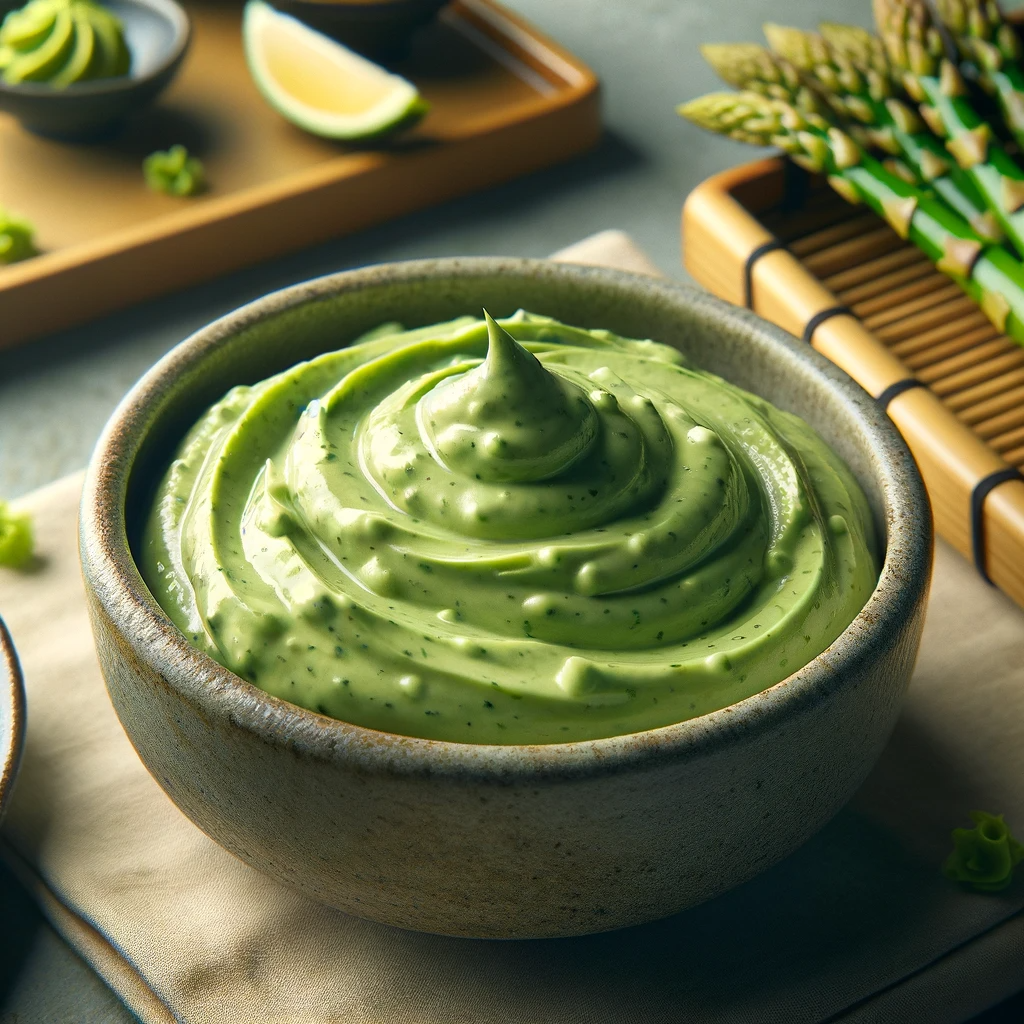 Ingredients
1 cups mayonnaise

2 tablespoons wasabi paste

1 teaspoons garlic, minced

1 tablespoons lemon juice

1 teaspoon soy sauce

½ teaspoon sugar

¼ teaspoon salt

1/8 teaspoon ground black pepper

½ teaspoon sesame oil

to desired consistency tablespoons water (optional)
Instructions
In a medium mixing bowl, combine 1 cup of mayonnaise with 2 tablespoons of wasabi paste.

Add 1 teaspoon of minced garlic to the bowl.

Squeeze in approximately 1 tablespoon of fresh lemon juice.

Pour in 1 teaspoon of soy sauce for a hint of umami flavor.

Sprinkle in 1/2 teaspoon of sugar to balance the heat of the wasabi.

Season the mixture with 1/4 teaspoon of salt and 1/8 teaspoon of ground black pepper.

Drizzle in 1/2 teaspoon of sesame oil for a subtle nutty essence.

Whisk all the ingredients together until the mixture is smooth and fully combined.

Taste the aioli and adjust any of the seasonings to your preference, adding more wasabi for heat if desired.
Notes
If the aioli is too thick, thin it out with a little water, adding one tablespoon at a time until you reach the desired consistency.
Nutrition
Calories 94 kcal |
Carbohydrate Content 0.2 g |
Cholesterol Content 5.8 mg |
Fat Content 10.3 g |
Fiber Content 0 g |
Protein Content 0.1 g |
Serving Size 1 portion |
Sodium Content 83 mg |
Sugar Content 0.1 g |
Saturated Fat Content 1.5 g |