Bacon Aioli
We're here to share something we've been loving in our kitchen lately - a Bacon Aioli recipe. It's a delicious mix that's really captured our hearts…and our stomachs. This aioli is great on sandwiches, adding a creamy touch that complements any filling; as a dip, it's a hit with both veggies and fries, creating a tasty contrast of textures and flavors, and when used as a dressing, it transforms any salad into something quite unique.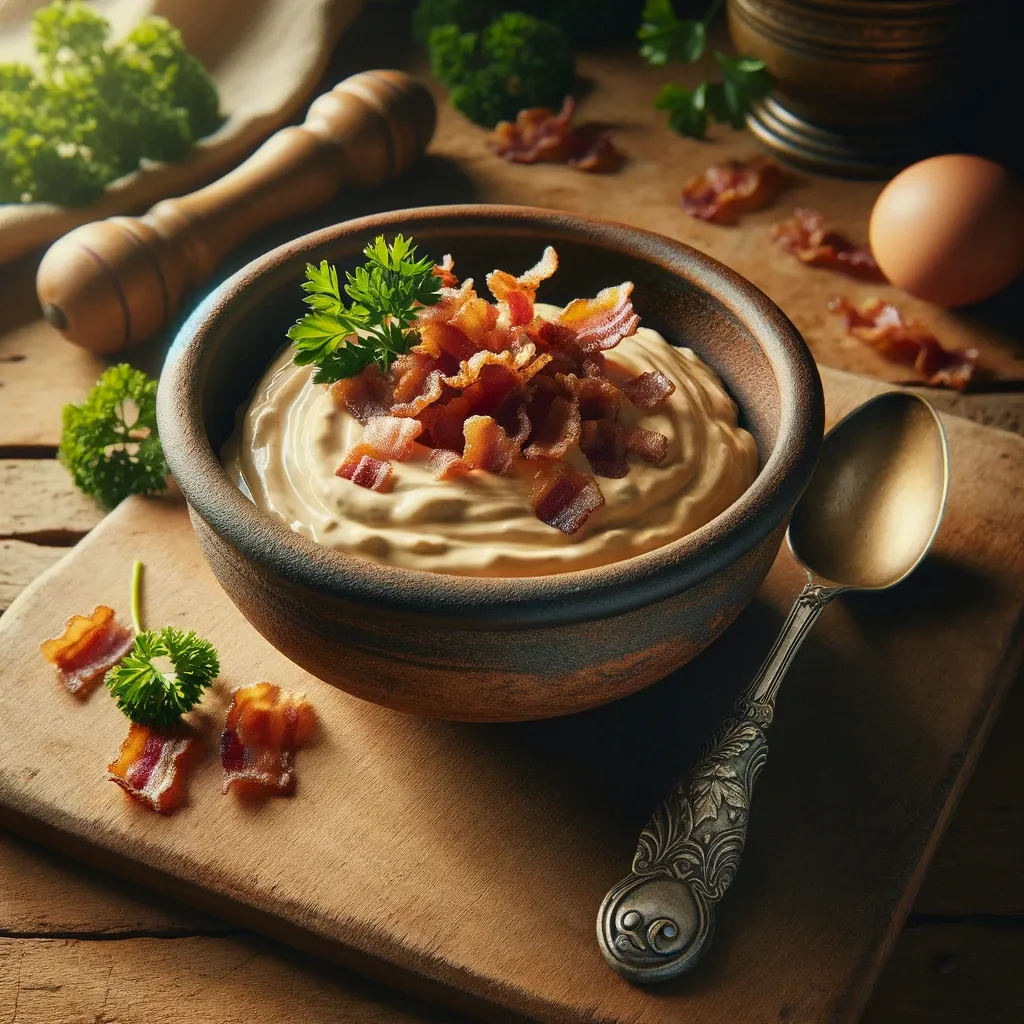 Now, about making this aioli - we've kept it simple and straightforward. Our recipe uses ingredients you're likely to have in your kitchen, and the steps are easy to follow. For this recipe, we use mayonnaise for a quick aioli, but you can also create aioli from scratch, or use storebought aioli.
Bacon
In our bacon aioli recipe, we use bacon that's cooked until it's perfectly crispy, and to get this cook we're generally using the instant pot air fryer. If you're new to your instant pot air fryer, try out our recipe on how to prepare bacon using an instant pot.
This crispy bacon texture is key - it adds a delightful crunch that contrasts beautifully with the creamy aioli. We prefer using thick-cut bacon because it retains a good amount of its size and texture even after cooking. Once cooked, we let it cool down a bit before chopping it into small, bite-sized pieces.
Time saving
Since this recipe uses a lot of garlic (six cloves to make the aioli), we really recommend trying out our time-saving garlic paste recipe. This has made our meal prep so easy since we never need to peel or mince our garlic while we're cooking - what a hack!
Aioli adoration
Wondering about all the ways to use your delish aioli sauce? Fear not, we've got you covered and then some - here are our favorite ways to spread aioli;
Sandwich spread: Elevate your sandwiches by spreading a layer of bacon aioli on the bread for a flavorful twist.
Dipping sauce: Serve bacon aioli as a dip with French fries, sweet potato fries, or even onion rings for an extra punch of flavor.
With grilled veggies: Drizzle or dollop bacon aioli over grilled vegetables like asparagus, bell peppers, or zucchini.
In burger toppings: Add bacon aioli to your burgers as a topping, and don't just take our word for it, try it with our avocado bacon burger recipe.
As a salad dressing: Use it as a dressing for your salads, especially those with a base of crisp greens or coleslaw.
With seafood dishes: Pair bacon aioli with seafood like crab cakes, grilled shrimp, or fish tacos - you won't be disappointed!
As a pizza topping: Before baking, dot your pizza with small spoonfuls of bacon aioli for a creamy, smoky addition.
In wraps or burritos: Add bacon aioli into wraps or burritos for a creamy texture and rich flavor.
As a vase for canapés: Spread bacon aioli on crackers or small toasts and top with cheese, meats, or veggies for elegant appetizers.
In deviled eggs: Mix bacon aioli into your deviled egg filling for a unique and delicious twist on the classic recipe.
Explore all our aiolis
What exactly is bacon aioli?
Aioli, a traditional dip from the Northwest Mediterranean, is typically made with garlic, olive oil, salt, and eggs.
In our variation, we've added crunchy bits of bacon to the aioli base for a bit of a twist - the crispiness of the bacon complements the smooth aioli perfectly.
Preparing bacon aioli is quite straightforward; you can either use a ready-made aioli or create your own from scratch. For an easier version, as in this recipe, you can start with mayonnaise as the base, simply mix in the crispy bacon bits, and you have a fantastic dipping sauce.
What's the shelf life of bacon aioli in the refrigerator?
Bacon aioli can be kept in the refrigerator for about 2-3 days. To ensure the best flavor, we recommend preparing fresh bacon to add to the aioli whenever you plan to use it.
In what ways can I use bacon aioli?
Bacon aioli is incredibly versatile as a spread and a dip. Here are some creative ways to enjoy it:
As a dip for bread or fries
A condiment for sandwiches or burgers
A dressing for salads
A complementary sauce for vegetables
Bacon Aioli
This bacon aioli recipe holds a special place in our favorites. The irresistibly crispy bacon pairs flawlessly with the creamy, luxurious aioli, creating a delicious blend of textures and flavors.
Cuisine
Mediterranean
Serves
4
Prep
5 mins
Cook
0 mins
Total
5 mins
Calories
382 kcal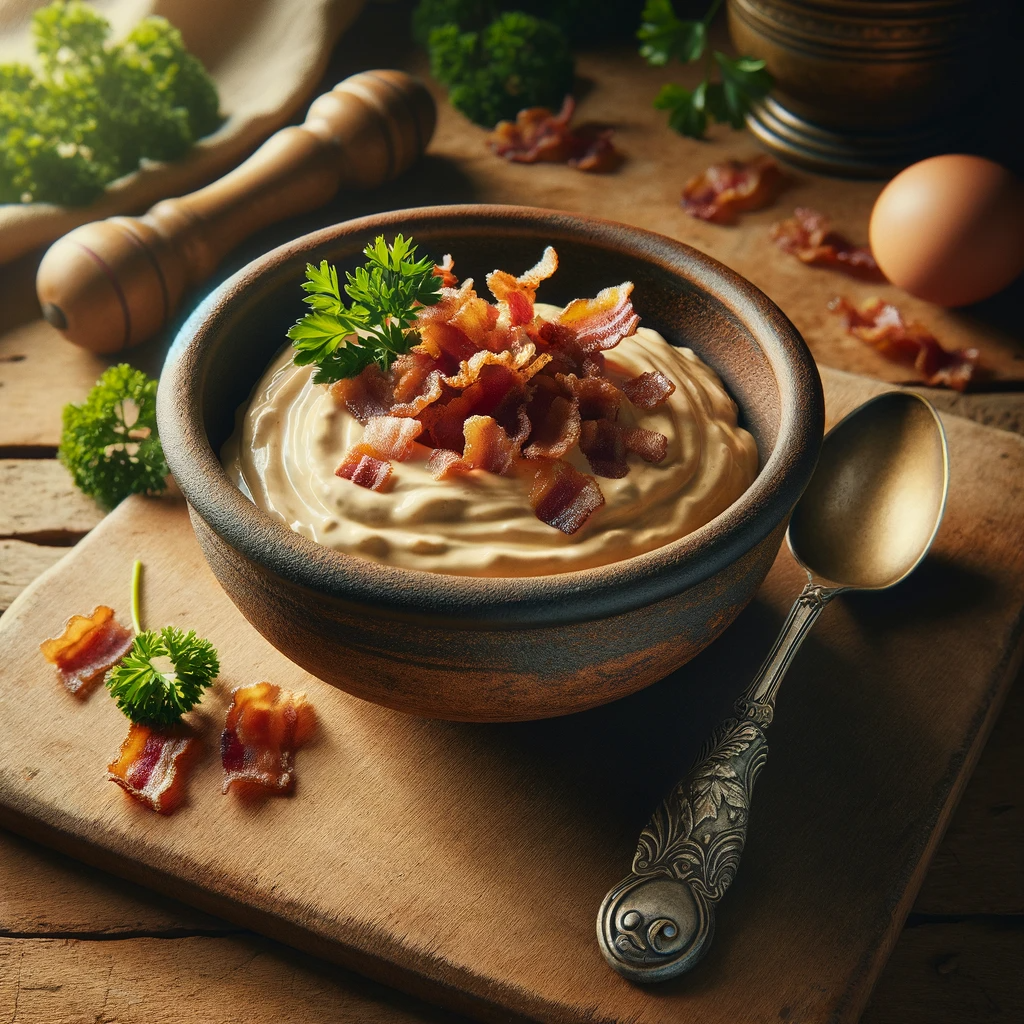 Ingredients
1 cup mayonnaise

4 teaspoons lemon juice

6 cloves minced garlic or 6 teaspoons of garlic paste

½ teaspoon dijon mustard

3 rashers chopped cooked bacon
Instructions
Add all the ingredients to a bowl and mix thoroughly.

If you're using the bacon aioli as a dip, we recommend keeping aside a spinkle of bacon bits and add that as garnish on top of the dip before serving.
Notes
To save time when making recipes that use lots of garlic, we recommend using garlic paste. One teaspoon of garlic paste is the equivalent of one clove of garlic.

If you're making your bacon aioli in advance, consider preparing the aioli separately and adding the bacon before you serve.
Nutrition
Calories 382 kcal |
Carbohydrate Content 2.1 g |
Cholesterol Content 23.1 mg |
Fat Content 41.2 g |
Fiber Content 0.1 g |
Protein Content 0.8 g |
Serving Size 1 portion |
Sodium Content 366.3 mg |
Sugar Content 0.5 g |