Green Onion Dip
Welcome to our latest culinary creation, the green onion dip that promises to be the star of your appetizer table. This isn't just any dip—it's a symphony of flavors where the humble green onion takes center stage, transformed into a creamy, savory, and utterly moreish spread that will have your guests coming back for seconds, thirds, and even fourths!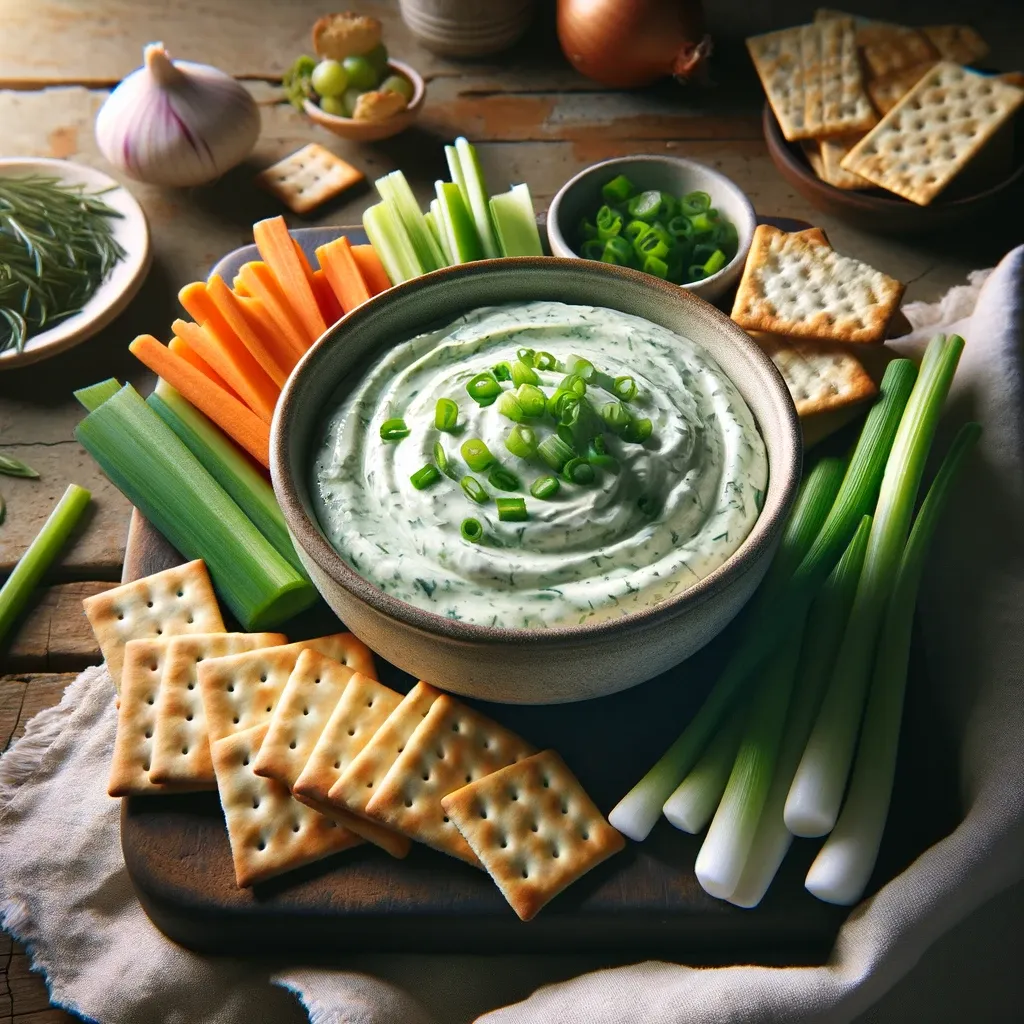 Sour Cream
Sour cream is the luscious base of our green onion dip, contributing a creamy texture and a tangy flavor that balances the sharpness of the green onions. It's made from the fermentation of regular cream with certain kinds of lactic acid bacteria. The bacterial culture, which is introduced either deliberately or naturally, sours and thickens the cream. Its richness adds a decadent quality to the dip, making it an irresistible spread for crackers, vegetables, or as a companion to spicy dishes.
Mayonnaise
Mayonnaise acts as a silky binder in our dip, melding together the various flavors into a cohesive spread. This emulsion of egg yolks, oil, and vinegar or lemon juice brings a velvety texture and a subtle acidity that elevates the dip from simple to sublime. Its neutral taste provides a canvas for the green onions and other seasonings, allowing them to shine while also contributing to the overall body of the dip.
Green Onions
Green onions, also known as scallions or spring onions, are the namesake star of this dip. They offer a mild onion flavor with a crisp bite that complements the creamy elements perfectly. Both the white base and the green stalks are used, providing a burst of color and a dual experience of textures. Their fresh, verdant taste is a nod to the coming of spring and a tribute to the timeless appeal of onion dips.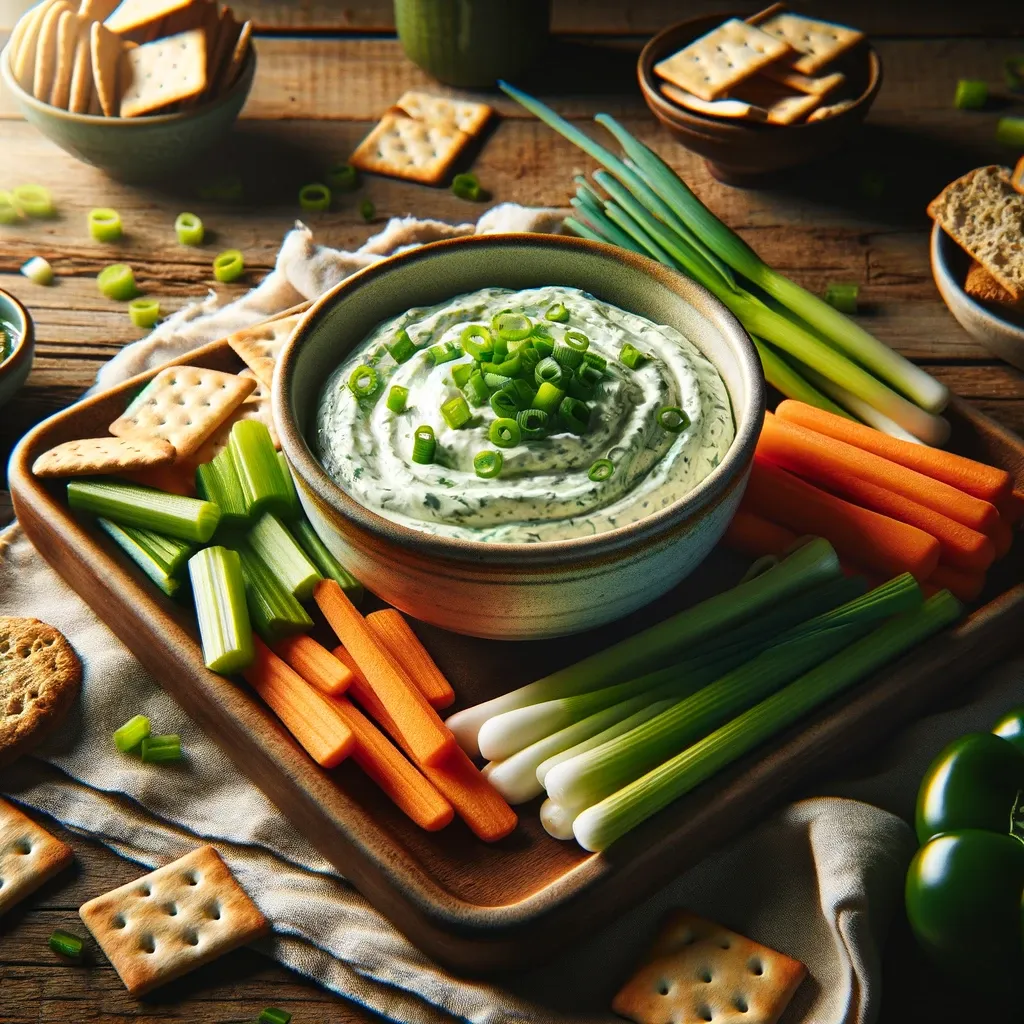 Garlic
Garlic is a potent aromatic that brings a punch of flavor to the dip. It has a distinctive taste that can range from sharp and pungent when raw to mellow and sweet when roasted or cooked. This versatile ingredient adds depth and a hint of earthiness, allowing the dip to assert itself with a boldness that is both grounding and invigorating.
Variations
Feel free to jazz up this basic recipe with some crumbled blue cheese for a punchy twist, or throw in a dash of Worcestershire sauce for a deeper flavor profile. For those who like it hot, a sprinkle of red chili flakes will add a pleasant warmth.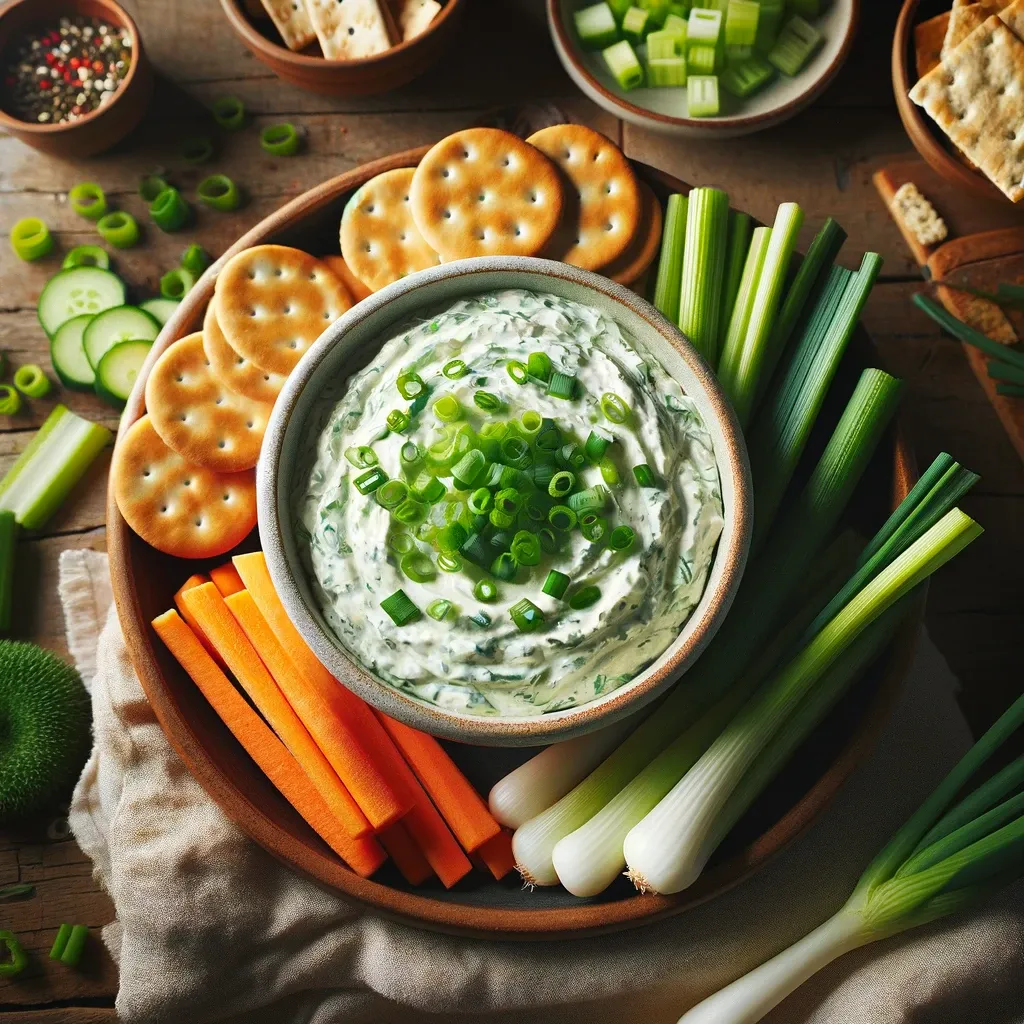 Engage with your palate and let your taste buds revel in the delight that is our green onion dip. It's not just a dip; it's an experience that redefines what you thought you knew about this classic dish. So, chop, mix, season, and dip into the goodness!
Looking for crowd-pleasers?
Try out some of our other dips and dinner party go-tos;
How long can I store homemade green onion dip?
For best freshness, enjoy your homemade green onion dip within 3-4 days when stored in an airtight container in the refrigerator.
Can I use a different base for the dip instead of sour cream and mayonnaise?
Absolutely! Greek yogurt makes for a fantastic and healthier alternative, adding a lovely tanginess to the dip.
What can I serve with green onion dip?
Vegetable Sticks: Offer an assortment of fresh vegetables like carrot sticks, celery, bell pepper strips, cucumber, and cherry tomatoes.
Chips and Crackers: Serve with potato chips, tortilla chips, pita chips, bagel chips, or an assortment of crackers for dipping.
Bread: Toasted bread, baguettes, or artisanal loaves can be sliced into bite-sized pieces that are perfect for dipping.
Grilled Meats or Seafood: Use the dip as a sauce for grilled chicken, steak strips, shrimp, or fish.
Fried Foods: Onion rings, French fries, or zucchini fries can be dipped into the green onion sauce for added flavor.
Stuffed Potatoes: A dollop of green onion dip can top off a baked potato or a roasted sweet potato.
Sandwich Spread: Use it as a flavorful spread on sandwiches or burgers.
Cheese Platter: Include it in a cheese platter with a variety of cheeses and meats.
Savory Pancakes or Fritters: Serve alongside savory pancakes, like potato pancakes, or vegetable fritters.
Green Onion Dip
This green onion dip is the perfect blend of creamy and savory, with a delightful punch of fresh green onions. It's a quick and easy hit for any gathering!
Cuisine
International
Serves
4
Prep
10 mins
Cook
0 mins
Total
10 mins
Calories
150 kcal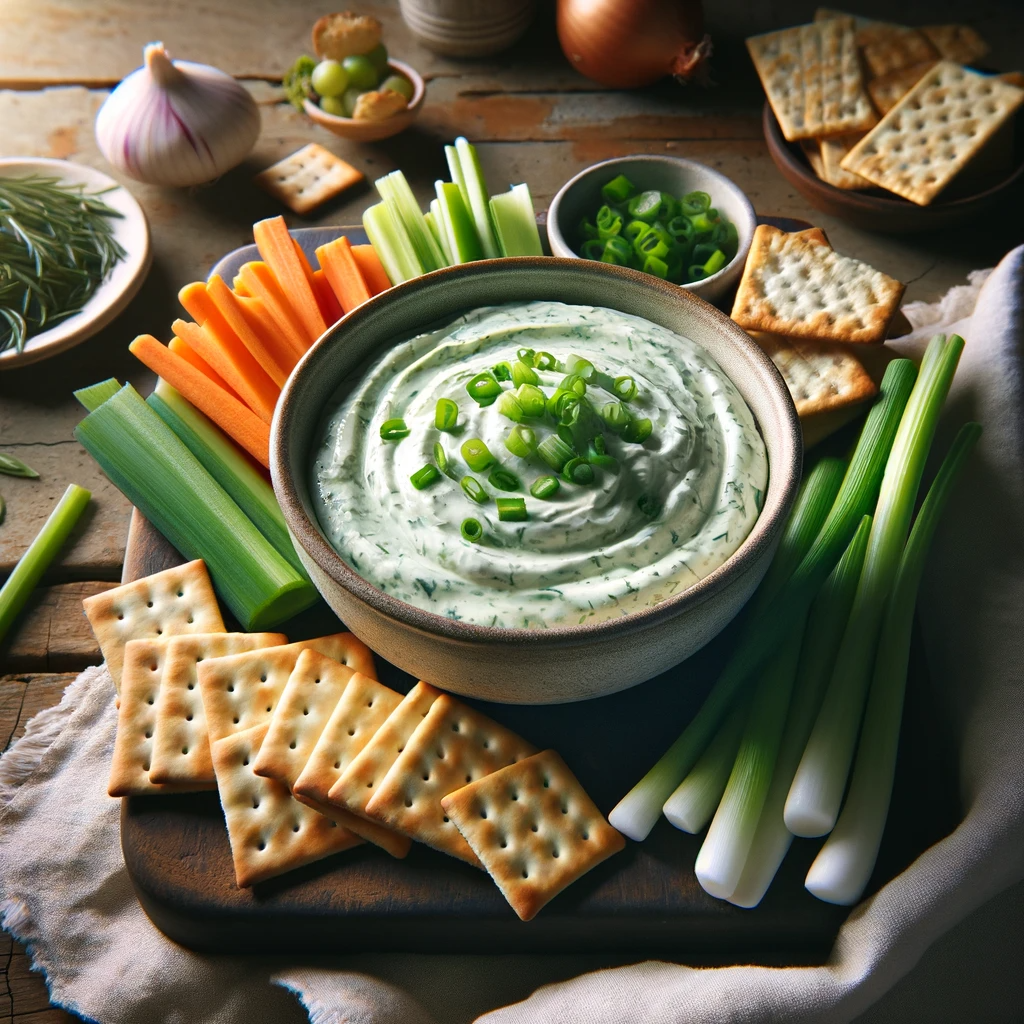 Ingredients
1 cup sour cream

1 bunch green onions

1/2 teaspoon garlic powder

1/4 teaspoon salt

1/4 teaspoon ground black pepper

1 tablespoon lemon juice

1/4 cup mayonnaise

1-2 tablespoon finely chopped chives

1 teaspoon Worcestershire sauce
Instructions
Finely chop the green onions, using both the white and green parts for a fuller flavor.

In a mixing bowl, combine 1 cup of sour cream with 1/4 cup of mayonnaise. Stir until the mixture is smooth and well-blended.

Add 1/2 teaspoon of garlic powder, 1-2 tablespoons of finely chopped chives, 1/4 teaspoon of salt, and 1/4 teaspoon of ground black pepper to the sour cream mixture.

Squeeze in 1 tablespoon of lemon juice and mix thoroughly. The lemon juice will add a fresh zesty flavor and also help to slightly thin the dip.

If you're including Worcestershire sauce for an extra depth of flavor, stir in 1 teaspoon at this point.

Fold in the chopped green onions, reserving a small amount for garnish if desired.

Taste the dip and adjust seasoning if necessary. Depending on your preference, you may want to add more salt or lemon juice.

Cover the bowl with plastic wrap and refrigerate the dip for at least 1 hour before serving. This allows the flavors to meld together.

Serve the green onion dip chilled, garnished with the reserved chopped green onions. Enjoy with your favorite chips, vegetables, or crackers.
Nutrition
Calories 150 kcal |
Carbohydrate Content 3 g |
Cholesterol Content 20 mg |
Fat Content 14 g |
Fiber Content 0.5 g |
Protein Content 2 g |
Serving Size 1 portion |
Sodium Content 200 mg |
Sugar Content 2 g |