Lawson's Classic Chip Dip
A true crowd-pleaser at parties, Lawson's Chip Dip is renowned for its creamy texture and moreish flavor. This homemade version captures the essence of the original, making it a perfect dip for your favorite chips.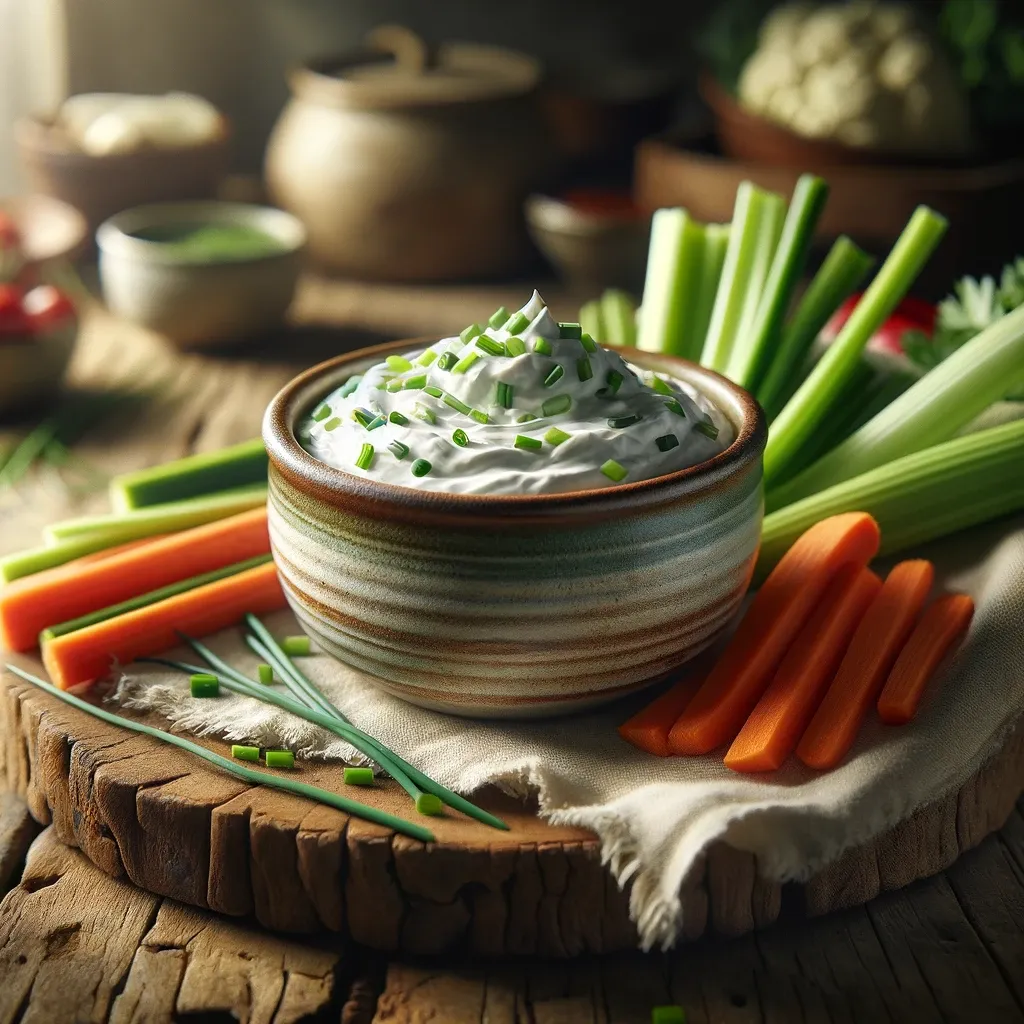 Sour cream
Sour cream serves as the foundational ingredient of our dip, lending it that creamy, luxurious texture we all crave. It's the kind of ingredient that transforms a good dip into a great one, making it rich and smooth.
The beauty of sour cream lies in its versatility; it balances flavors, provides creaminess, and pairs well with a variety of seasonings.
Dried minced onion
Dried minced onion is an important part of this recipe as it adds a gentle sharpness and richness to the dip that you wouldn't get from anything else. These small pieces enhance the dip's creamy base, offering a more interesting taste that's enjoyable but not overpowering. The onion doesn't dominate the flavor; rather, it brings an extra dimension to each bite.
Parsley
The chopped parsley is like a fresh breeze through the dip, adding not just a hint of freshness but also a splash of vibrant color. It brings a light, herbaceous note that cuts through the richness of the sour cream and the intensity of the onion and garlic powsder.
Garlic powder
Garlic powder is all about bringing a bold, robust flavor to the table. It infuses with the dip and adds complexity to the sour cream while also complementing its creaminess.
A touch of salt
Salt might seem like just a simple ingredient, but isn't something just…off…without some salt?
Salt helps to bring everything together, it enhances and harmonises the flavors of all the other ingredients. Without salt, the dip would be lacking that essential zing, that little push that elevates it from good to unforgettable. It's about finding the right balance, ensuring each ingredient sings in harmony, creating a dip that's flavorful, memorable, and just perfect for any occasion.
Dare to dip?
What's a dip without pairings? Here are some tried and tested ways to use your homemade Lawson's chip dip:
Classic Potato Chips and Veggie Crisps: Need we say more? A match made in heaven.
Fresh Vegetables: Some crunchy, fresh vegetables go great with this dip, such as, carrots, celery or cucumber. Just cut the vegetables into sticks for easy dipping!
Sandwich Spread: Yes, you heard us right; Lawson's chip dip works great as a sandwich spread.
Crackers and Bread: When in doubt, go for a classic and serve up this dip with some lovely salted crackers or hot bread - you really can't go wrong!
Sweet Potato Fries: For a sweet and savory twist, use your dip for on a serving of sweet potato fries; the natural sweetness of the fries complements the savory richness of the dip - perfect!
Grilled Chicken Strips: If you're looking for a protein-packed pairing, grilled chicken strips dipped in Lawson's Chip Dip can be a hearty and filling option. The smoky flavor of the chicken combined with the creamy dip is absolutely delicious.
Roasted Vegetables: Roasted vegetables like bell peppers, zucchini, or asparagus can be a great way to enjoy the dip while adding some nutritious veggies to your snack time.
Salad Dressing: Enjoy your Lawson's chip dip on a fresh, crisp salad.
Baked Potatoes: Add your dip to a freshly baked potato - absolutely delicious!
Each of these pairings offers a unique way to enjoy Lawson's Chip Dip, whether you're looking for something classic, healthy, or a bit more adventurous!
Crowd-pleasing?
We're all about tweaking recipes to suit everyone's taste. Here's how you can play around with this recipe:
For our vegetarian friends: Substitute sour cream with a dairy-free alternative.
Craving extra creaminess?: Blend in a 1/4 cup of cream cheese for a richer texture (or adjust depending on your preferences).
Fancy a spicy kick?: A dash of hot sauce or a sprinkle of cayenne pepper will do wonders.- Herb-Infused Delight: Stir in a tablespoon of chopped fresh herbs like chives, dill, or basil for an aromatic touch. This adds a refreshing, garden-fresh flavor to the dip.
Cheese lover's twist: Mix in shredded cheddar or pepper jack cheese for a cheesy, gooey upgrade. This is perfect for those who can't get enough cheese in their dips.
Lemon zest lift: Grate some lemon zest into the dip for a zesty, citrusy note. This adds a bright and refreshing flavor, perfect for summer gatherings.
Garlic-boost: For garlic enthusiasts, adding minced fresh garlic or extra garlic powder can intensify the garlicky flavor, making it more pronounced and savory.
Bacon bits: Stir in crispy bacon bits for a smoky, meaty addition. This is a great way to add texture and flavor, especially for meat lovers.
Greek yogurt substitute: Replace sour cream with Greek yogurt for a healthier alternative. It maintains the creamy texture while adding a tangy twist.
So, there you have it - our special take on the classic Lawson's Chip Dip. We've had such a great time experimenting with this recipe and can't wait for you to try it out. Let's keep the tradition of good food and great company going, one dip at a time! Happy dipping!
Looking for more to serve?
Try out some of our other dips and dinner party go-tos;
Can I make this dip ahead of time?
Absolutely! It's best when chilled for a couple of hours, allowing the flavors to meld together.
How long can I store this dip?
The dip should last up to a week in the fridge if it's stored properly in an air-tight container.
Is there a low-fat version of this dip?
Yes, you can replace the full fat sour cream for a low-fat or fat-free sour cream. Swap out the sour cream entirely for Greek yogurt for a healthier and tangier alternative.
What are some alternative uses for this dip?
It works great as a dressing for salads, a topping on a baked potato, a dipping sauce for roasted vegetables or even a sandwich spread!
Lawson's Classic Chip Dip
A true crowd-pleaser at parties, Lawson's Chip Dip is renowned for its creamy texture and moreish flavor. This homemade version captures the essence of the original, making it a perfect companion for your favorite chips.
Cuisine
American
Serves
4
Prep
10 mins
Cook
0 mins
Total
10 mins
Calories
150 kcal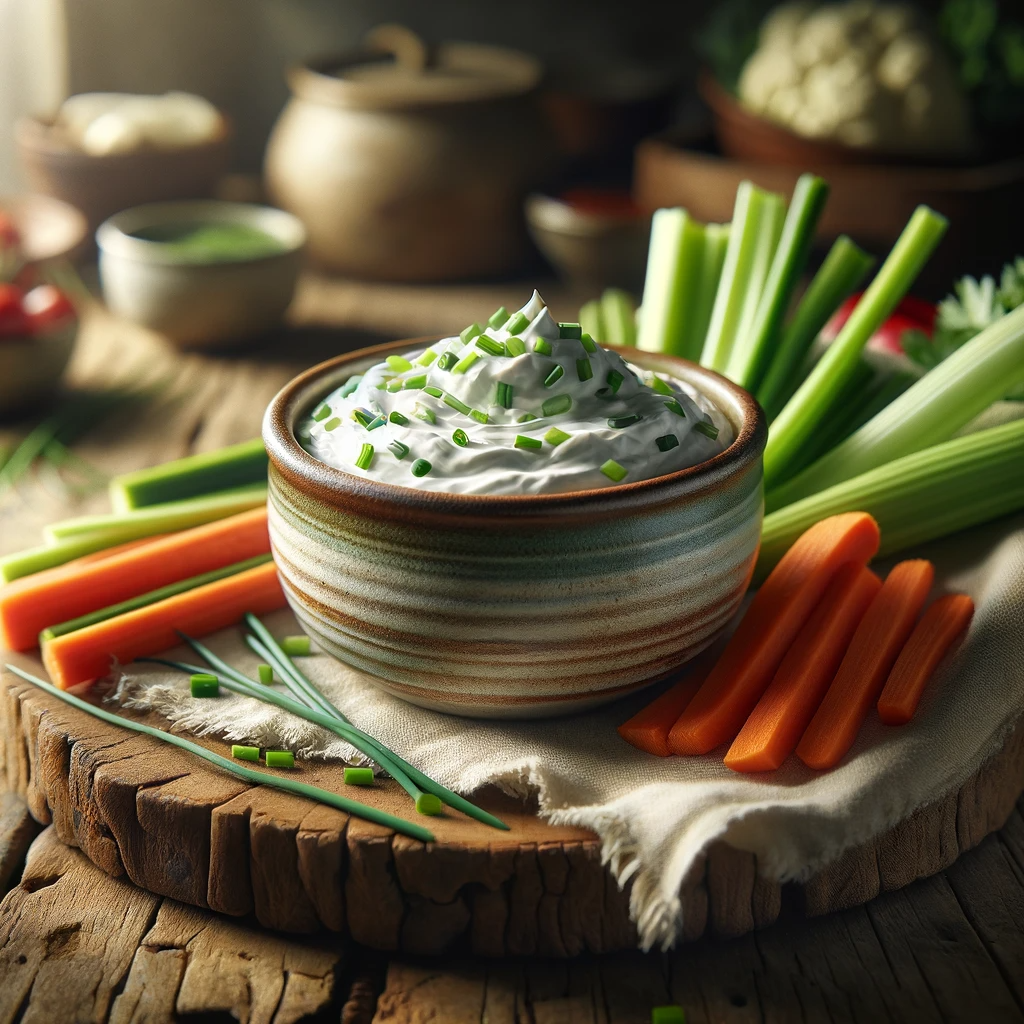 Ingredients
1 cup sour cream

1 tablespoon dried minced onion

1 tablespoon chopped parsley

1/2 teaspoon garlic powder

1/4 teaspoon salt
Instructions
In a medium-sized bowl, mix 1 cup of sour cream with 1 tablespoon of dried minced onion, 1 tablespoon of chopped parsley, 1/2 teaspoon of garlic powder, and 1/4 teaspoon of salt.

Stir the ingredients together until they are well combined and the mixture is smooth.

Cover the bowl with plastic wrap and refrigerate for at least 1 hour to allow the flavors to meld together.

Before serving, give the dip a final stir to ensure that all the flavors are evenly distributed.

Serve the dip with your favorite chips, vegetables, or use as a spread for sandwiches.
Nutrition
Calories 150 kcal |
Carbohydrate Content 3 g |
Cholesterol Content 45 mg |
Fat Content 14 g |
Fiber Content 0 g |
Protein Content 2 g |
Serving Size 1 portion |
Sodium Content 300 mg |
Sugar Content 2 g |