Tuna Dip
A great dip for a casual get-together or a quick snack, this creamy dip is versatile, tasty and easy to make. Over the last few months, we've added this tuna dip to anything and everything we reasonably could, so we're excited to share this one with you.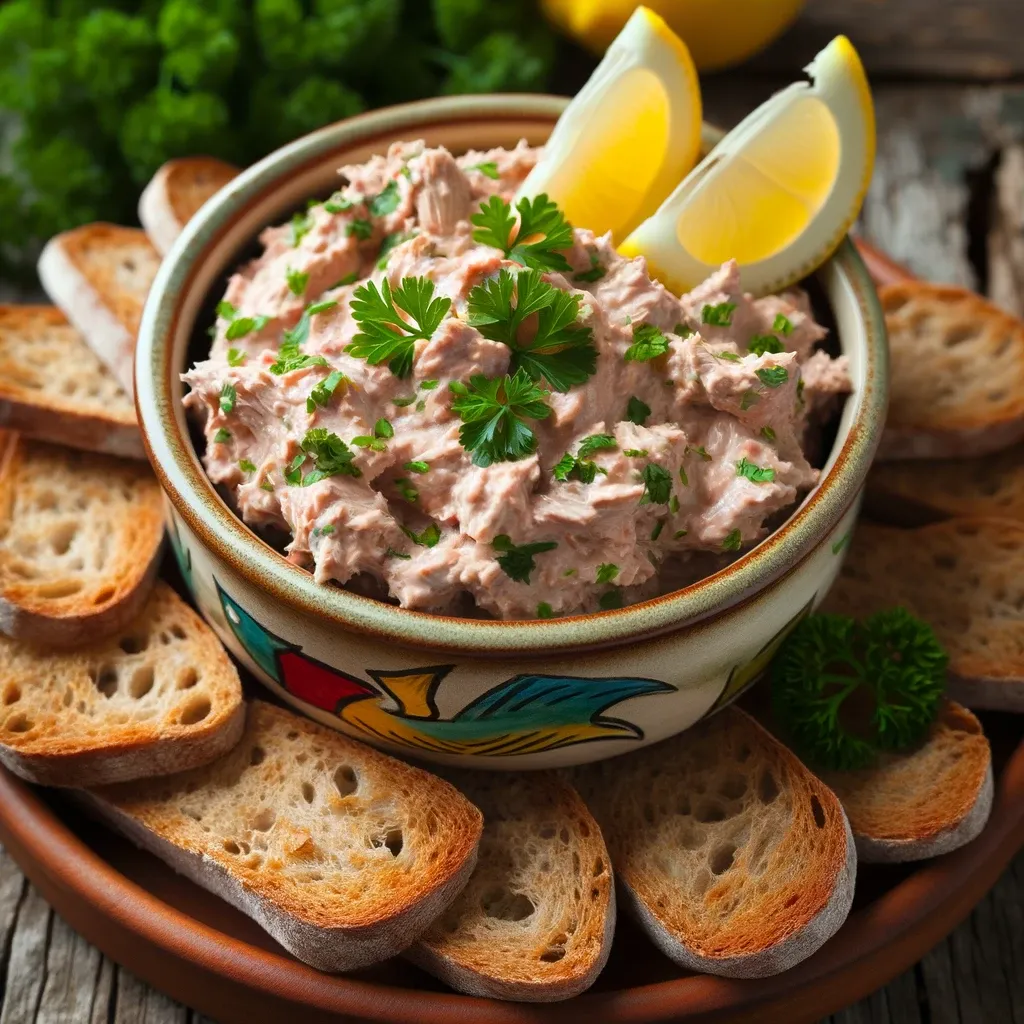 The perfect tuna dip?
In trying to create the perfect tuna dip, we've tried various types of tuna, but we keep coming back to the classic: flakey canned tuna. It's not only easy on the purse strings but also has great texture and taste for our dip. While we usually prefer tuna soaked in brine for its salty taste, we've also had great results with tuna in oil or water.
Creamy dip
Now, let's talk about what transforms this dip into a creamy dream. Our go-to base is a luscious mix of cream cheese and our very own homemade mayonnaise. This combination not only adds a rich, velvety texture but also serves as the canvas for the flavors we're about to add. To give the dip that extra oomph, we sprinkle in some lemon juice, garlic powder, salt, and pepper.
If you're anything like us, constantly reaching for the same trusted spices (garlic powder, salt and pepper), then you'll love our homemade Stone House Seasoning recipe. It's our little kitchen hack that streamlines meal prep and packs a punch of flavor.
Some variety
One of the things we adore about this recipe is how customizable it is. We love to stir in a teaspoon of dijon mustard, adding a vibrant kick that wakes up all the flavors, but there are so many ways to make this dip your own;
Herbs: Stir in fresh herbs like dill, parsley, chives, or basil for a fresh flavor.
Spices: Add spices such as paprika, cumin, or curry powder for a unique twist.
Cheese: Mix in grated cheeses like Parmesan, cheddar, or feta for extra richness.
Vegetables: Include finely chopped vegetables like red onions, bell peppers, or sun-dried tomatoes for texture and taste.
Heat: Introduce some heat with chopped jalapeños, red pepper flakes, or a dash of hot sauce.
Citrus Zest: Lemon or lime zest can add a bright, zesty note.
Mustards: Experiment with different types of mustard, like Dijon, honey mustard, or whole grain mustard for added depth.
Olives or Capers: Chopped olives or capers can give the dip a Mediterranean flair.
Greek Yogurt: Substitute some of the mayonnaise or cream cheese with Greek yogurt for a tangier, healthier option.
Anchovies: Blend in a few anchovies for a deeper, umami flavor.
Horseradish: A bit of horseradish can add a sharp, pungent taste.
Avocado: Blend in ripe avocado for a creamy, nutrient-rich addition.
Pickles: Finely chopped pickles or relish can add an interesting tang.
Soy Sauce or Worcestershire sauce: For a savory, umami kick.
Fresh Garlic: Use minced fresh garlic instead of garlic powder for a stronger flavor.
Smoked Salmon: Mix in bits of smoked salmon for a luxurious twist.
Roasted Red Peppers: Blend in roasted red peppers for a sweet and smoky taste.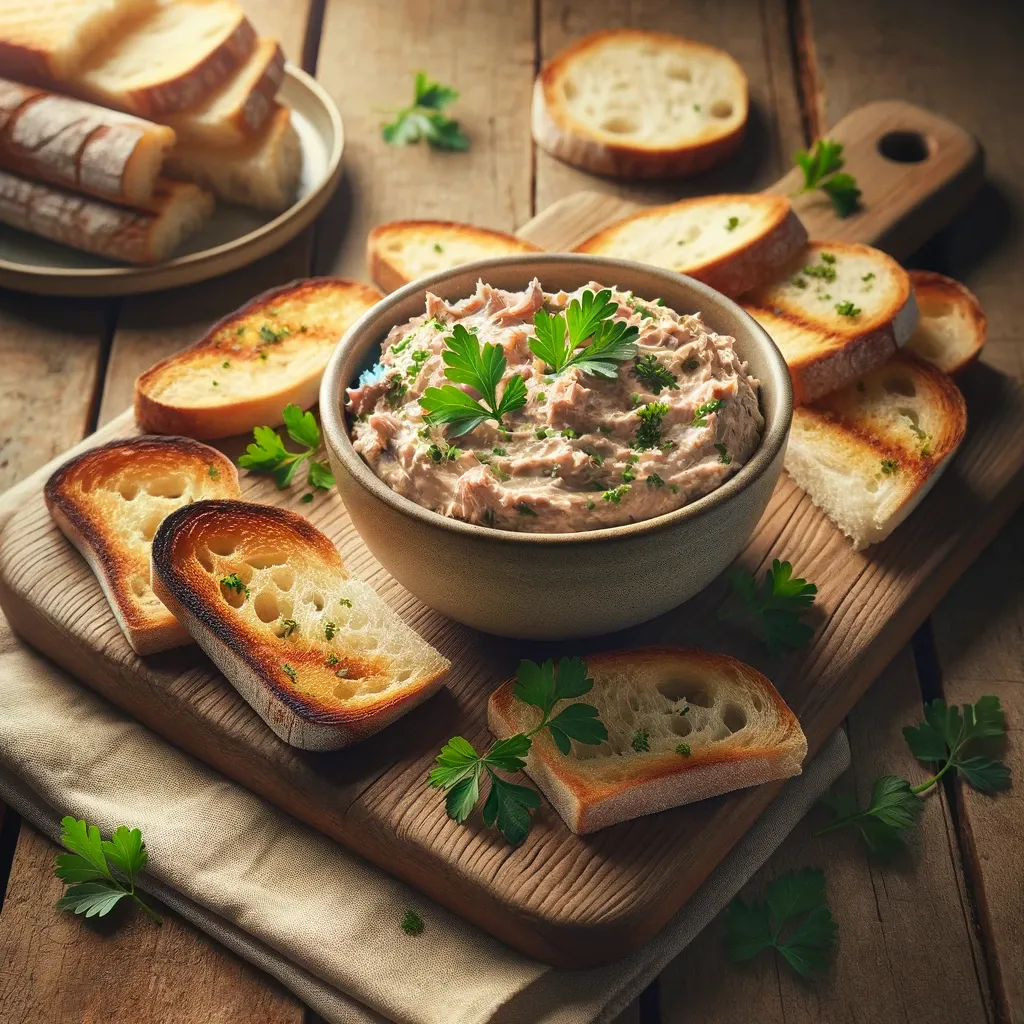 Versatility
Wondering about the different uses for tuna dip? We weren't lying when we said we tried it on everything;
Dip for Crackers or Chips: Serve it as a classic dip with your favorite crackers, chips, or pretzels.
Vegetable Platter: Pair it with a variety of raw vegetables like carrot sticks, cucumber slices, bell pepper strips, and cherry tomatoes.
Sandwich Spread: Use it as a flavorful spread for sandwiches or wraps.
Stuffed Vegetables: Stuff it into hollowed-out cherry tomatoes, bell peppers, or cucumber boats.
Canapés Topping: Spread on small toasts or crackers and top with herbs or capers for elegant canapés.
Bagel Spread: A great alternative to cream cheese on a bagel.
Stuffed Avocado: Fill halved avocados with tuna dip for a nutritious snack or light meal.
Pasta Sauce: Mix it into warm pasta for a creamy, flavorful sauce.
Baked Potato Topping: Top a hot baked potato with tuna dip for a satisfying meal.
Sushi Filling: Use it as a filling for homemade sushi rolls.
Pita Bread Filler: Stuff it inside pita pockets with lettuce and other veggies.
Omelette Filling: Add it to an omelette for a protein-packed breakfast.
Rice Bowl Topping: Add it to a bowl of rice with vegetables for a quick meal.
Tostada Topping: Spread on tostadas and top with sliced avocado and fresh salsa.
Croissant Filler: Stuff into a croissant for a gourmet snack or brunch item.
Quesadilla Filling: Combine with cheese in a quesadilla for a unique twist.
Pizza Topping: Use as an unconventional pizza topping, perhaps with some extra cheese and onions.
Lettuce Wraps: Spoon into lettuce leaves for a light and refreshing wrap.
Crowd-Pleasers
Are you looking for other dips for a dinner party? Here are a few recipes that our guests always love;
How long can I store tuna dip?
Store your tuna dip for 3-4 days in the fridge in an airtight container. This makes the tuna dip perfect for a party or a part of a work lunch since it can be prepared the night before.
What can I serve with this tuna dip?
The versatility of this dip is endless; for a party serve crackers or bread or an assortment of sliced veggies, such as carrots, cucumbers, or celery. We also love to spread our tuna dip on sandwiches or add it to a wrap to use it for lunches or quick snacks.
Tuna Dip
A great dip for a casual get-together or a quick snack, this creamy dip is versatile, tasty and easy to make. We've added this tuna dip to anything and everything we reasonably could, so we're excited to share this one with you.
Cuisine
American
Serves
8
Prep
5 mins
Cook
0 mins
Total
5 mins
Calories
94 kcal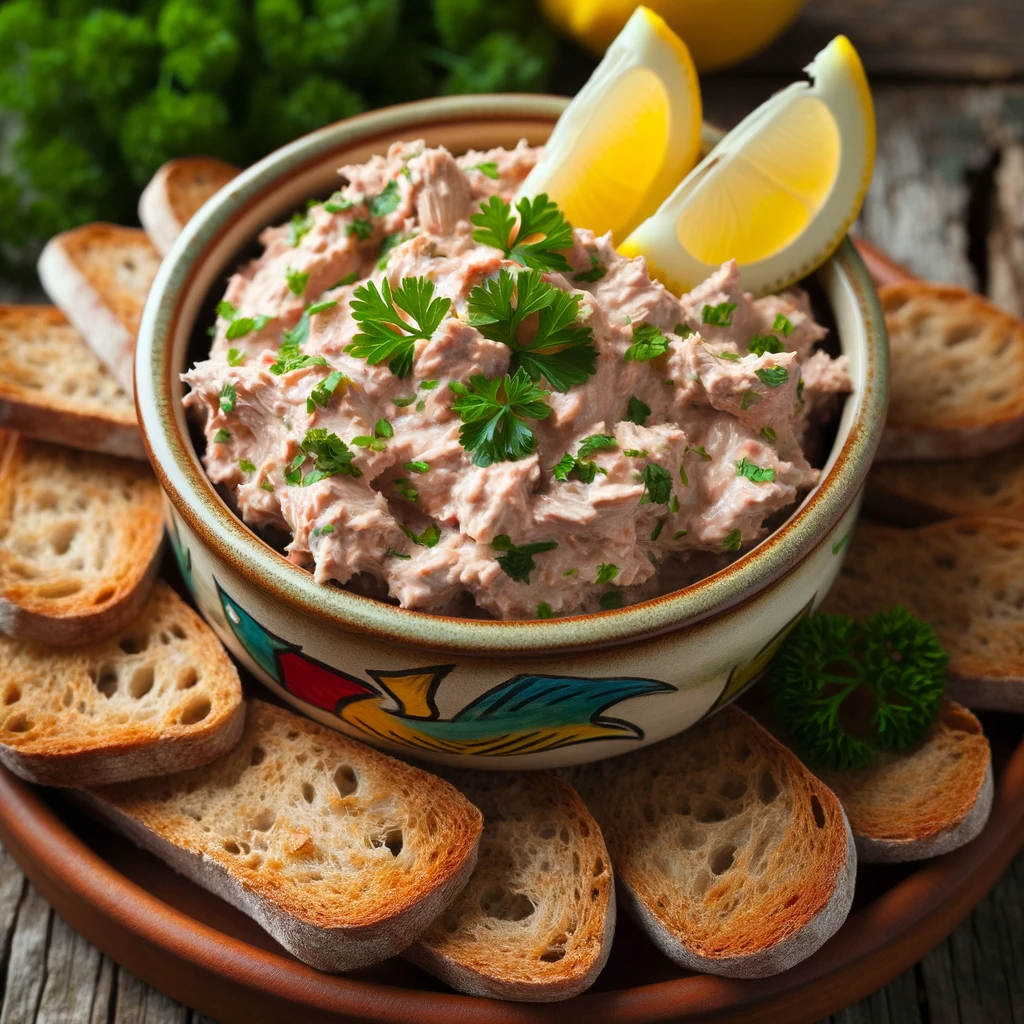 Ingredients
2 cans tuna

2.1 ounces cream cheese

1 tablespoon mayonnaise

2 teaspoons lemon juice

1 teaspoon dijon mustard

¾ teaspoon pepper

⅛ teaspoon garlic powder

1 pinch of salt

1 tablespoon chopped parsley to garnish
Instructions
Drain the cans of tuna from any liquid. Add the ingredients to a bowl except the parsley. Mix until everything is thoroughly combined and until the consistency is smooth.

Sprinkle the parsley on top to garnish.
Nutrition
Calories 94 kcal |
Carbohydrate Content 0.7 g |
Cholesterol Content 26.3 mg |
Fat Content 5.1 g |
Fiber Content 0.1 g |
Protein Content 10.7 g |
Serving Size 1 portion |
Sodium Content 212.8 mg |
Sugar Content 0.3 g |